Group demands White House revoke Cosby's Medal of Freedom
By Ashley Fantz CNN News Service | 7/16/2015, midnight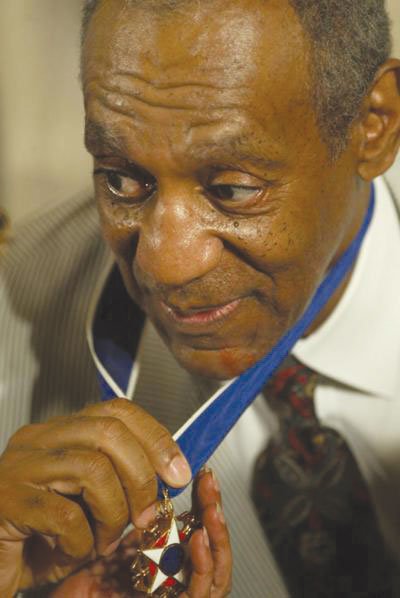 Shortly after Disney removed a Bill Cosby statue from its Florida theme park, a sexual assault survivor organization began petitioning the White House to revoke a Presidential Medal of Freedom the comedian received in 2002.
President Barack Obama said that there was no precedent for revoking the medal, but he did outline a definition of rape.

"If you give a woman or a man, for that matter, without his or her knowledge a drug and then have sex with that person without consent, that's rape," Obama said Wednesday.
The online petition to revoke Cosby's medal, which has garnered more than 2,600 signatures in less than 24 hours, is just the latest example of public outcry after court documents revealed recently that Cosby admitted in a deposition to obtaining Quaaludes for women with whom he wanted to have sex.

"The Presidential Medal of Freedom is the highest award bestowed on civilians for their contributions to society," says the petition organized by Chicago-based PAVE, or Promoting Awareness, Victim Empowerment. "Bill Cosby does not deserve to be on the list of distinguished recipients."

PAVE's founder and executive director, Angela Rose, was abducted and sexually assaulted when she was 17, and she has spent her life working on behalf of survivors and trying to educate the public about sexual violence.

Taking the medal from Cosby is an "opportunity to send a very important message, especially to young people, to tell them that Cosby's actions should not be celebrated," she told CNN.
The Los Angeles Police Department has an open investigation concerning Cosby, according to Officer Matthew Ludwig. Because it concerns sexual abuse allegations, the LAPD says, it cannot provide details.

Cosby has not been charged with a crime and has numerous times denied the sexual assault allegations.

A move for more answers

Cosby admitted that he procured prescription Quaaludes for women he wanted to have sex with, according to documents dating back to 2005 that stem from a lawsuit filed by Andrea Constand, who was then the director of operations for the Temple University women's basketball team.

In the suit, Constand alleged, among other things, that Cosby sexually assaulted her. In 2006, she entered into a confidential agreement to settle.

Constand is among dozens of women who have publicly accused the comedian of rape and sexual assault.

CNN has attempted to reach a lawyer and publicist for Cosby to respond to the revelations in the documents, without success. His longtime publicist, David Brokaw, said, "We have no plans to issue a statement."


Reaction in Hollywood, elsewhere

While court matters play out, there continues to be fierce backlash against Cosby.

In addition to Disney taking down his statue, the Navy announced it is revoking Cosby's title of honorary chief petty officer, which he received in 2011.

The Bounce network announced it would stop airing Cosby's sitcoms. BET pulled "The Cosby Show" off the air. Netflix last November scrapped plans to air a new show with Cosby.

Cosby's talent agency has dropped him as a client, Creative Artists Agency spokeswoman Missy Davy told CNN.