New healthcare development slated for Palmdale next year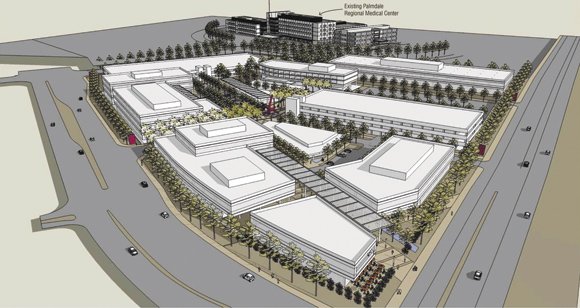 Thomas Partners Properties announced this week a new wellness village real estate development called The Oasis that will be adjacent to Palmdale Regional Medical Center. Groundbreaking is expected in June 2016.
The Oasis will be a 420,000-square-foot development project spanning more than 17.5 acres. It will include multiple districts to promote health and wellness thus providing an entire continuum of care in addition to hospitality, retail and dining opportunities. The estimated cost is $200 million, and officials expect several thousand new jobs including temporary construction positions as well as part-and full-time slots to come to the Antelope Valley. A variety of public amenities and public infrastructure improvements will be designed to enhance the overall project look, including a public pavilion, parking and circulation amenities, a park, pedestrian areas, sinage, decor and landscaping.
"The Oasis Wellness Village is a true health care success story," said Palmdale Mayor Jim Ledford. "We have a healthcare crisis in the Antelope Valley, and The Oasis is turning that crisis into an opportunity to promote better health and better healthcare for everyone."
The California Medical Association (CMA) has what is called a "standards of doctor-to-care" ratio and has revealed that the Antelope Valley is experiencing a health-provider crisis with many residents being dramatically undeserved. More than double the current number of doctors, the CMA reported, are needed to fix the problem. The Oasis is said to have the potential to alleviate some of that pressure by recruiting numerous doctors to the area from some of the country's most prestigious health care brands.
"The city is thrilled and incredibly supportive of The Oasis," Ledford continued. "Our residents need more and better access to healthcare. This project is a huge boon and welcome addition to our community."