Fresh takes on kids' favorites
Pancakes, cookies, and doughnuts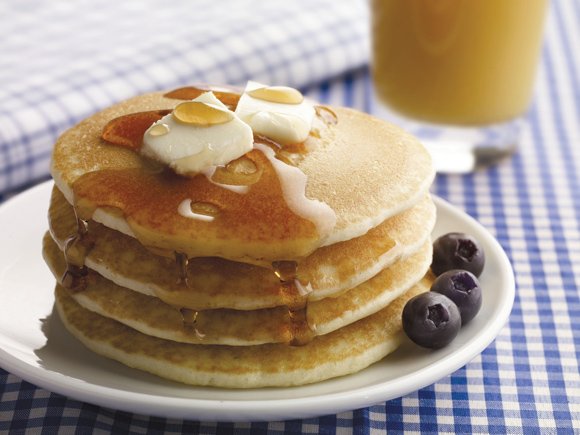 As the kids get out of school, there's no better time to make a fresh start in the kitchen, too. Substituting nutritious ingredients such as sorghum in your favorite grain-based foods is an easy way to upgrade your family's menu this fall.
Some of the traditional snacks kids love most—such as cakes, cookies and doughnuts—can all be prepared using sorghum, a gluten-free cereal grain grown throughout the world. This highly versatile ingredient is naturally high in fiber, iron and protein, and can be used in a wide range of preparations. In fact, white food-grade sorghum can be milled directly into whole grain flour to produce foods such as brownies, breads, pizza dough, pastas, cereals, pancakes and waffles.
Whether it's a power breakfast to fuel the day, a sweet lunchbox treat or a tasty after-school snack, these recipes showcase how simple it can be to give your kids' favorite treats a nutritious makeover they'll be thrilled to sample.
For more nutritious recipes and tips for cooking with sorghum, visit www.HealthySorghum.com.
Celiac-friendly substitutions:
• 2 teaspoons vanilla extract: Use 2 teaspoons X-Tra Touch vanilla or any other gluten-free vanilla.
• 3/4 cup unbleached white flour: Replace with 6 tablespoons chickpea (garbanzo bean) flour and 6 tablespoons sweet rice flour, or use 3/4 cup commercial gluten-free flour.
• 3 cups oatmeal: Replace with 3-4 cups of any gluten-free, ready-to-eat flake cereal slightly crushed, or gluten-free crispy rice cereal.
• 1 (10-ounce) package almond toffee bits: Verify product is gluten-free or use 1 3/4 cups chopped almonds or walnuts.
Sorghum Pancakes
Recipe provided by Barbara Kliment
1 3/4 cups sorghum flour
1/4 cup cornstarch
3 teaspoons baking powder
2 teaspoons sugar
1/2 teaspoon salt
1/2 cup powdered buttermilk
2 eggs
3 tablespoons melted butter
1 1/2 cups water
Heat oven to 200°F. Combine dry ingredients. In separate bowl, beat together eggs, melted butter and water; add to dry ingredients and mix just until well blended. Heat large skillet or griddle over medium-low heat. Spray pan with cooking oil. Wet fingertips under faucet and shake them over hot griddle. If water droplets "sizzle," heat is right to begin making pancakes. For large cakes, pour 1/4 cup of batter into pan; for small use 2 tablespoons of batter. Cook until bubbles form on top; flip and cook until golden brown on bottom. Transfer to baking sheet and keep warm in oven while making rest of pancakes. Serve warm with butter and syrup.
Chewy Oatmeal Toffee Cookies Recipe provided by Kate Lange
1 cup butter, softened
2 eggs
2 cups light brown sugar
2 teaspoons vanilla extract
1 cup sorghum flour
3/4 cup unbleached white flour
1/2 teaspoon salt
1 teaspoon baking soda
1/8 teaspoon allspice
1 1/2 teaspoons cinnamon
1/8 teaspoon cloves
3 cups oatmeal
1 cup coconut flakes
1 (10-ounce) package almond toffee bits
Heat oven to 375°F. Lightly grease cookie sheet. Cream butter, eggs, brown sugar and vanilla in large bowl until light and fluffy. Mix flour, salt, soda, allspice, cinnamon and cloves; add to butter mixture. Beat until well blended. Stir in oatmeal, coconut and toffee bits with spoon. Drop by rounded teaspoons about 2 inches apart onto prepared sheet. Bake 8-10 minutes or until edges are lightly browned. Cool 1 minute; remove to wire rack.