Santa Clarita's Thursdays @ Newhall series returns
Free Events Held from March through October
1/30/2015, 10:31 a.m.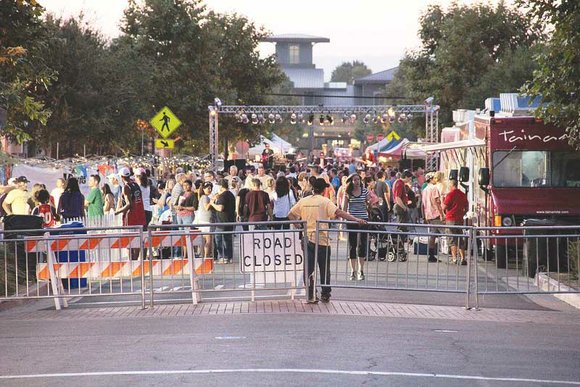 Thursday nights will heat up in Santa Clarita as the city's popular Thursdays @ Newhall series, presented by Galpin Subaru, returns to Old Town Newhall on March 5, 2015. Several new and returning events will be held on Thursday nights from March through October, including a weekly rotation of ArtSLAM, a new Revved Up car show, SENSES, The ARTree 2015 Speaker Series and the SCVTV Presents OutWest Concert Series.
The free Thursdays @ Newhall series features events unlike any other in Santa Clarita. With Main Street serving as the backdrop, each week's entertainment includes exciting new themes, attractions and hands-on activities for all ages in the heart of Old Town Newhall's Arts District.

On the first Thursday of each month from 6-10 p.m., ArtSLAM will combine forces with JAM Sessions to celebrate art, music and movement. ArtSLAM features art installations by local artists. JAM Sessions is an interactive series inviting participants of all skill levels to release their inner artist through tango, salsa, drumming, square dance and much more. All ArtSLAM events are free and open to the public.
ArtSLAM kicks off on Thursday, March 5 with a pop-up art gallery and a Bollywood dance JAM Session. Additional JAM Sessions scheduled for the 2015 ArtSLAM season include Square Dance on April 2, Japanese Folk Dance on May 7, African Dance and Drums on June 4, Drum Circle on July 2, Swing Dance on August 6, Salsa Dance on September 3, and Tango Dance on October 1st. JAM Sessions begin at 7:30 p.m. and are presented in partnership with the Ford Theatre Foundation, with funding provided by The James Irvine Foundation. To learn more, visit FordJamSessions.org.
The Thursdays @ Newhall series cruises on with Revved Up, a new and free themed car show held from 7-10 p.m. on the second Thursday of the month. Each event will feature top quality cars, a live DJ, food trucks and a beer and wine garden for adults. Attendees will be invited to vote for their favorite car, with eligible winners entered into the annual OTNA Classic Car Show.
Revved Up begins on Thursday, March 12 with a Classic VW car show. Additional shows scheduled for the 2015 Revved Up series include Trucks and Off-Road Vehicles on April 9, Traditional Rods and Customs on May 14, Custom & Classic Motorcycles on June 11, Imports on July 9, Antiques on August 13, Low Riders on September 10 and Oddball Cars on October 8, 2015.
Residents may submit a vehicle for consideration in a show by applying online at http://oldtownnewhall.com/thursdaysatnewhall/revved-up or by contacting the city's Arts and Events office at aeo@santa-clarita.com.
The SENSES block party will heat up Main Street once again from 7-10 p.m. on every third Thursday of the month. The free outdoor events, which draw thousands of attendees and will kick off on Thursday, March 19, with a Luck o' the Irish theme, including live Celtic rock music by Green Ashes, as well as food trucks and activities.
Other SENSES themes slated for 2015 include Country Throwdown on April 16, Masquerade on May 21, Let it Ride on June 18, Christmas in July on July 16, Woodstock on August 20, Hot Havana Nights on September 17 and Sports of all Sorts on October 15.