Three Ways to Cook Brussels Sprouts
Think you hate them? Recipes that might change your mind.
By Erin O'Donnell WebMD Magazine | 1/16/2015, midnight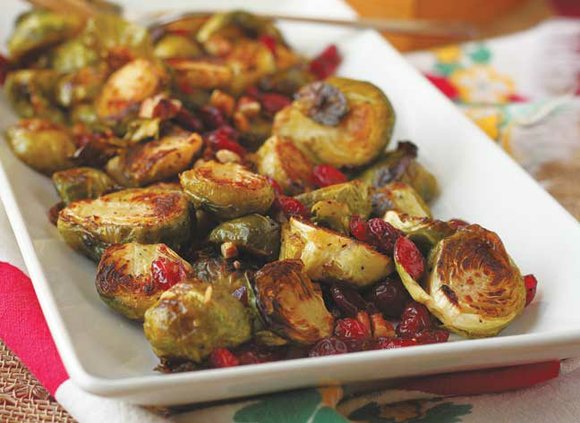 Reluctant to embrace Brussels sprouts?
"I grew up eating them overcooked and thought they were horrible," admits Judy Simon, RD, CD. She's a clinical dietitian at the University of Washington Medical Center in Seattle. But when she moved to Washington, a top sprout-growing state, she tried them new ways, including roasted and sliced raw in salads.
"I absolutely love them now," she says.
These leafy gems are packed with nutrition and terrific flavor when prepared properly. A member of the cabbage family, Brussels sprouts have a mere 28 calories in a half cup, but more than 130 percent of your daily value of vitamin K, a key nutrient for bone health. They also have glucosinolates, plant chemicals that may lower your risk of certain cancers.
"Just don't overcook them like Grandma did," Simon says. Roast, sauté, or steam them, and check out our recipes for other delicious options.
Slaw and Order
Shred or slice Brussels sprouts thin, and pair them with fruit and nuts. It's a novel way to introduce this star veggie to doubtful diners. Serve this slaw as a side dish with pork.
Brussels Sprout Slaw With Apples, Currants, and Walnuts
Makes 6 servings Ingredients
Dressing
2 tbsp extra virgin olive oil
2 tbsp fresh lemon juice
1 tbsp honey
1 tsp Dijon mustard
1/2 tsp salt
freshly ground pepper
Slaw
1 1/2 lbs Brussels sprouts, cleaned and shredded
or thinly sliced
1 large apple, thinly sliced
1/4 cup currants
1/4 cup chopped walnuts, toasted
Directions
First, make the dressing: In a small bowl, whisk together olive oil, lemon juice, honey, mustard, and salt and pepper.

In a large bowl, combine Brussels sprouts, apple, currants, and walnuts. Add salad dressing and toss thoroughly. Refrigerate 1-2 hours before serving.
Per serving: 156 calories, 5 g protein, 20 g carbohydrate, 8 g fat (1 g saturated fat), 6 g fiber, 9 g sugar, 232 mg sodium. Calories from fat: 46%
Bring Home the Bacon
The combo of roasted Brussels sprouts and delectable bacon will convert even the fiercest Brussels sprout skeptic. This dish calls for balsamic syrup, sometimes called balsamic glaze, a tasty condiment found in large grocery stores and gourmet shops.
Crispy Roasted Brussels Sprouts With Bacon
Makes 6 servings
Ingredients
1 1/2 lbs Brussels sprouts, trimmed and halved
2 tbsp olive oil
1/4 tsp salt
freshly ground pepper
2 tbsp cooked, crumbled bacon (about 2 strips)
1 tbsp balsamic syrup
2 tbsp finely grated Parmesan cheese
Directions
Preheat oven to 450°F.

In a large bowl, toss Brussels sprouts, oil, and salt and pepper. Spread mixture in a single layer on an 11x17-inch baking sheet. Place pan in the upper half of the oven, and stir sprouts once after 15 minutes. Continue roasting until Brussels sprouts are brown and tender, about 25-30 minutes total.

Transfer Brussels sprouts to serving dish. Combine with bacon, drizzle with balsamic syrup, and garnish with cheese. Serve immediately.
Per serving: 118 calories, 5 g protein, 12 g carbohydrate, 6 g fat (1 g saturated fat), 1 mg cholesterol, 4 g fiber, 5 g sugar, 231 mg sodium. Calories from fat: 47%