Student Athlete of the Week
L.A. High's Kaymen Cureton
By Jason Lewis | 2/26/2015, 1:45 p.m.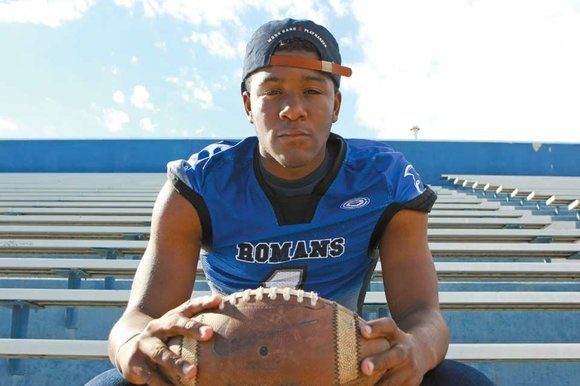 This past season Los Angeles High School's football team made a historic turnaround. For years they have been a struggling program, but in head coach Eric Scott's first year on the job, the squad finished the season 12-2 and won the City Section Division III championship.
One major piece to the winning season was sophomore quarterback Kaymen Cureton, who used his smarts and "rocket arm" to light up the field throughout the season. The 4.0 GPA student stands 6'1," weighs 200 pounds, and he was a star in the biggest moments of the season.
In the semifinal playoff matchup against Hawkins, Cureton threw for 305 yards and two touchdowns, and he added 110 yards rushing with a touchdown. In the championship game against Monroe, he threw for 290 yards and two touchdowns.

Cureton was reared around the sport of football. His father, Clay Cureton, was a star running back at Long Beach Poly High School, and played college football at San Diego State. The younger Cureton started playing youth tackle football for the Long Beach Jack Rabbits when he was 8 years old, and later played for the Carson Colts, where his father was one of his coaches. From the beginning, he knew which position he wanted to play.
"I used to play a video game called NCAA," Cureton said. "I used to run with the Ohio State quarterback Troy Smith, and I just wanted to be like him."
It was not long before Cureton was excelling at the position, and with the help of his father, he developed quickly. But the Curetons have had their ups and downs.
"We bump heads," the younger Cureton chuckled. "He repeats a lot of things, and that kind of annoys me. But I get it done on the field, so we blend together there.
"It's good and bad. The first thing is that he'll always tell me what I did great. But he always finishes with the criticism."
Cureton played his freshman year at Lakewood High School, where he started four games at quarterback on the varsity team. When his family moved to Los Angeles, Scott was able to convince them to come to Los Angeles High School.
Cureton is a dual-threat quarterback, because he can run and pass, and he is more advanced than the typical sophomore.
"I tend to look off the defenders before I make my decision about where the ball is going," Cureton said. "I do a lot of pre-snap reads. I believe I'm really accurate. I'm a dual-threat quarterback, but I am pass first, so I try to get my teammates the ball."
It can be tough for a young player to take over the reigns at quarterback, because that player is usually the leader of the team, which can be difficult when playing with older athletes. But when the seniors saw Cureton's abilities, they were on board with him.
"The seniors just followed me," Cureton said. "They said that 'he's the guy,' so I didn't have any problems with the age. They saw what I could do, and I guess they respected that."
Cureton compares his skills and abilities to Carolina Panthers quarterback Cam Newton.
"He's extremely accurate, he has a rocket arm," Cureton said. "I feel that I can throw deep like he can, and when he has to get out of the pocket he can make plays."
There are a few colleges scouts who are keeping tabs on Cureton, from schools such as UCLA, Utah, and Boston College. With the GPA that he has, academics will not be an issue when the colleges are looking to make offers.
Cureton's favorite subject is English; he likes to write, which is a skill that he picked up from his mother.
"My mom is a singer, and she writes songs," Cureton said. "She's into poetry and everything. Growing up I really liked to listen to music. We didn't just listen to it, we also listened to the lyrics. I really got into it from there. I learned to write things down, and how to make them rhyme."
Cureton has committed himself to achieving good grades in the classroom, because he understands that it is not just school work, but it is something that will help him get to where he wants to be in the future. His parents make sure that he stays on top of his studies.
Being a smart person is vital to playing quarterback, and Cureton's intelligence in the classroom transfers onto the football field.
"I feel that the mental aspect is key," Cureton said. "It just helps me make certain reads. Just knowing your personnel on the field, being as quick as possible with your thinking on the field, and really remembering the playbook. Remembering where guys are supposed to be."
Those skills can very well take Cureton to college, where he would like to major in either communications or kinesiology.

The Curetons attend church at Christ Temple in San Diego, and he believes that has helped him on the field too.
"As a person, it's [faith] helped me a lot, and it even transitions to the field," Cureton said. "You have to have faith, and I believe that everything works through faith. I feel that without God, you wouldn't be interviewing me right now."