Palmdale sets quest to provide summertime jobs for local youth
County teen unemployment at record high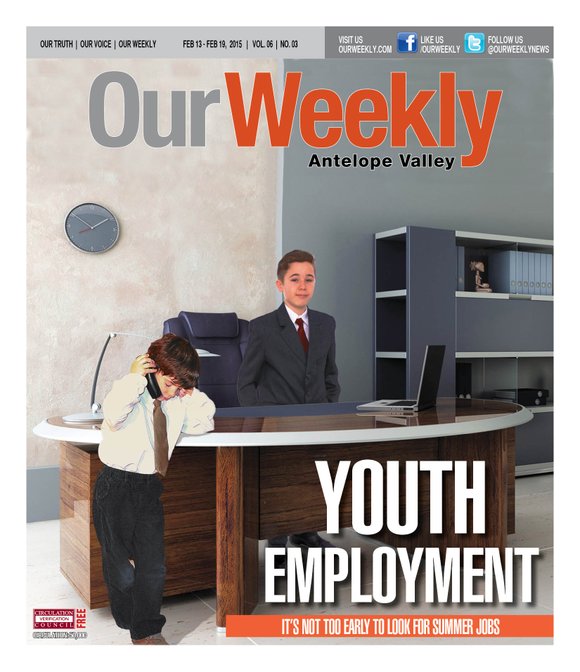 It's never too early to start a job search—particularly if you're a teenager. As the national employment figures continue to tick up, young people looking for work this summer may have an even more difficult time trying to secure a steady paycheck because more experienced workers are re-entering the job market.
The city of Palmdale is helping to alleviate the "summertime blues" by embarking on a novel idea to help more youth find those important "first jobs" that teach character, commitment, discipline, responsibility and so many more aspects of the maturation process. Local youth ages 15-18 who are interested in developing the skills needed to successfully interview for a job can now register for one of the upcoming sessions at the Palmdale Works! Youth Academy. Session one will be on Mondays and Wednesdays from Feb. 23 through March 11; session two will take place on Tuesdays and Thursdays from March 24 through April 9, all held at the Larry Chimbole Cultural Center, 38550 Sierra Highway, from 3:30 to 5: 30 p.m.
Also, the Palmdale Recreation and Culture Department is accepting applications for summer jobs. Here, a variety of program areas will be made available for persons with a wide range of experience, but not necessarily "on-the-job" work skills. Persons with volunteer experience are said to be especially welcome to the job recruitment program. Right now, registration is underway for the positions of program leader, senior lifeguard and head lifeguard.
There is no cost to attend the Palmdale Works sessions, but pre-registration is required. During the course of the program, students will be taught how to dress and prepare for a job interview, and also have the opportunity to meet with employers from local businesses and participate in "role-playing' exercises during mock interviews. You must attend each session to graduate.
"Participation in a program like this really does speak volumes to potential employers about the motivation and commitment of any young person entering the job market," said Trish Jones, Palmdale community programs supervisor. At the summer jobs seminars, qualified applicants must demonstrate professionalism during the recruitment process which will include good written and verbal communications skills—specifically grammar and spelling—and demonstrate the ability to correctly complete a job application. Organizers also want to teach young people how to provide the appropriate e-mail and phone information and instruct them on how to gather at least three quality references.
"These are great opportunities for our residents to join the city's team next summer," said Keri Smith, director of the Palmdale Recreation and Culture Department. "We're offering entry-level positions which provide individuals who are positive, motivated and community-minded the opportunity to develop transferable, versatile skills which will benefit them throughout their careers"
Your job: 'Find a job'
Landing a job—whether it be the first or the latest of many—can be a 40-hour per week "job" in and of itself. For generations of Americans, the summer job has been a gateway from youth into the adult work world; employment helps young people discover the satisfactions and responsibilities of work. The so-called "soft" and "hard" skills (ex. accepting criticism, exhibiting self confidence, demonstrating a strong work ethic) they gain are important to enduring success in the future. In some cases, a summer job can help teens discover career pathways. Early work experience—including internships—can often become crucial resume-building tools which, invariably, can lead to the so-called "hard skills" found on a resume such as education and specific qualifications.