Price coach Michael Lynch reaches 500 wins
By Jason Lewis OW Contributor | 2/12/2015, 2:19 p.m.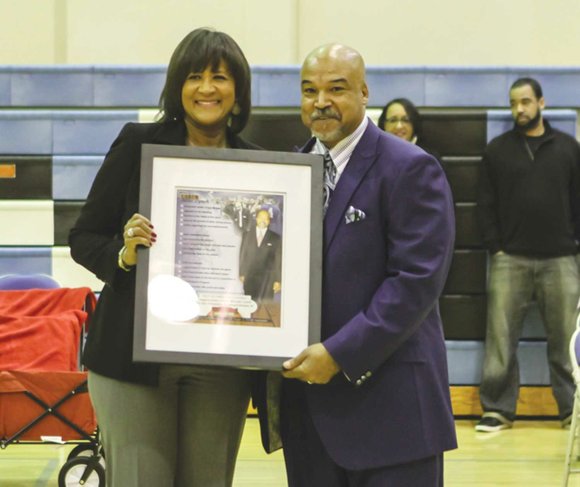 Price High School boy's basketball coach Michael Lynch continues to add to a historic resume, as he recently led his team to the 500th win during his tenure. Over the course of 19 years that he has served as the head coach, Price has won six state titles, eight regional titles, 10 division titles, and 11 league titles. His teams have won 83.6 percent of their games, as they only have 98 defeats.

Under Lynch's leadership, Price is only one of two schools to ever win four consecutive boys state titles.
Lynch has done more than just win games. He has sent 29 players to college on athletic scholarships, 19 of which to Division I universities. Out of the 150 players that he has coached, nearly 20 percent of them have obtained scholarships.

Lynch's players have received several honors and awards, including All-CIF and All-State teams, CIF Southern Section Player of the Year, CIF State Player of the Year, Gatorade Player of the Year, and the prestigious John R. Wooden Award for the best player in college basketball. Lynch has won various coach of the year awards.

With a student body of less than 100, Lynch continues to lead his teams to victories over schools with student bodies well into the thousands. Over the last two decades, he has led his teams to national prominence.

This season, Price boasts a 20-5 record, and they are highly ranked again in the state.

Lynch has been much more than a basketball coach. At a school such as Price, which has a 98 percent college placement rate, he has been a mentor, role model, father figure and friend to the athletes that have come through the program.

Outside of coaching, Lynch is a retired LAPD officer. He retired as a detective after 15 years of service, and he volunteers with the LAPD as a reserve. For the last 15 years, he has been employed at Crenshaw Christian Center as the head of security.