Black adoptee says new parents must preserve child's culture
By Manny Otiko OW Contributor | 2/12/2015, 2:58 p.m.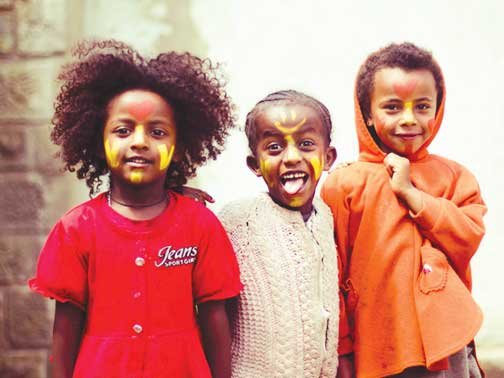 Not too long ago the common belief was that Black children in the foster system were expected to be adopted by African American families, but that has changed in recent years. Transracial adoptions have become common place. Celebrities such as Sandra Bullock and Tom Cruise have adopted Black children, and some celebrities such as Madonna and Angelina Jolie and Brad Pitt have gone as far as adopting children from Africa.
But what is it like to grow up in a family with parents who don't look like you?
Arizona resident Mark Molzen said he experienced this growing up in a family which he describes as the "United Nations of adoption."
Molzen, who has authored a book on adoption, said he was given away by his 14-year-old birth mother. He was later adopted by Colin and Celia Molzen, a White couple. Colin Molzen was in the Air Force and the family moved to several locations. This influenced their reason to adopt children from other cultures. The Molzens later had two children of their own and adopted a Native American daughter, African American daughter, and a Korean son. Molzen said this was unusual at the time.
"My parents felt that a baby of a different race or nationality would be more accepted in the Air Force, because of the exposure to many different cultures," Molzen said.
"We have been called many things. Two of my favorites are the Rainbow Coalition and the United Nations. I'm not sure who originally came up with the name United Nations for our family, but I still lovingly refer to us as such," Molzen said. "Our family represented several major ethnic groups, including European Americans, African Americans, Native Americans and Korean Americans. Our family is a microcosm of the United States of America — a melting pot of race, culture, and personality."
The Molzen family eventually settled in Salt Lake City, Utah. Molzen said he began to realize he didn't look like his parents when he was about seven. He also became fast friends with the only other Black student in his third-grade class. Molzen began to further explore the issue of race when he went away to college and took ethnic studies classes.
"I took an African American studies class, which created a spotlight on race relations. Also, it created an 'us vs. them' mentality, which was hard when the 'them' was my parents," he said.
Molzen's parents tried to be proactive and teach their children about their various ethnic identities. His parents found African American, Native American and Korean American families to befriend and interact with. His parents also taught him about African American history including notable figures such as George Washington Carver, Harriet Tubman, Frederick Douglass and Martin Luther King, Jr.
"I can't begin to count how many workshops I attended where I listened to speeches, learned to create African drums, and did all types of other fascinating things," Molzen said. "My parents would go out of their way to immerse me in every element, including music, hair care, and food. We would eat everything from greens to grits to black-eyed peas to smothered pork chops."
Molzen said his father also taught him about the ugly reality of racism, which is a difficult but necessary subject to address.
"This harsh reality must be shared when you have adopted a child who is not of your own race," Molzen said. "By having this type of conversation, your child will be equipped to handle, rather than be shocked by racism."
Dr. Gabe Crenshaw, a psychologist and professor at the University of Southern California, said parents adopting children of a different race must be careful to understand and appreciate the child's ethnic background. He has often been sought out by White parents who have adopted Black and biracial children when the children are having emotional problems.
"They (adoptive parents) need to be aware of and respect the child's culture," Crenshaw said. "It's important that transracial adoptive parents find someone who the child identifies with visually and culturally."
He said that if parents fail to do this, it can lead to the children having identity issues later in life. Crenshaw said he has witnessed this in private practice.
He also cautions parents who say they want to raise their children "not to see color."
"You can try, but the world won't let you be that," said Crenshaw.
Molzen said he supports transracial adoptions, but he says that White parents adopting ethnic children should not discount their culture.
"Transracial and international adoption is a complicated process involving race, culture and identity. I also know that adopted kids and their parents struggle with how to instill a sense of racial and cultural pride while balancing that with a sense of family when they do not all look the same," Molzen said.
Ideally, Black children should be adopted into Black families, but it's better to place a Black child into a loving, White family than leave them in the foster system, Molzen said.
"Black families should be a first option for a Black child but not the only option," Molzen said.
Crenshaw agrees. "Love surpasses everything," he said. "It's important that all kids are adopted into loving homes."
Mark Molzen's book "Chosen With Purpose" is available at www.chosenwithpurpose.com.