Measles outbreak spreads; no cases so far at AV schools
Health officials stress vaccinations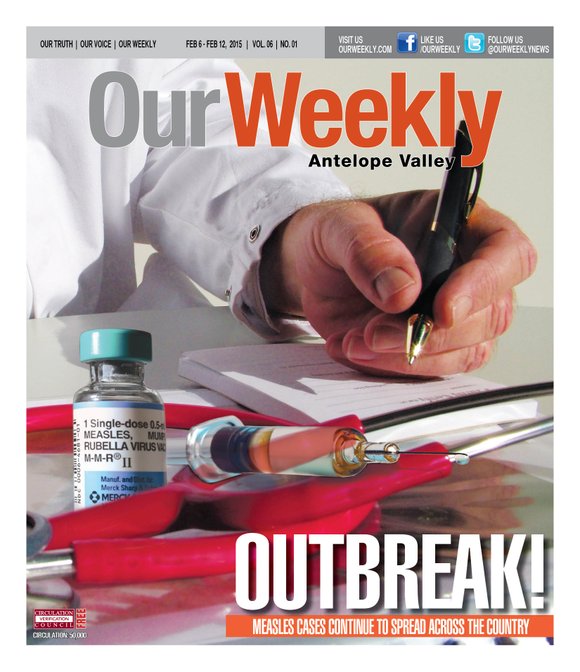 Stretching from the streets Disneyland to the steps of Capitol Hill, the measles outbreak and resultant commentary has returned focus to a generations'-old discussion of why and when children should receive vaccinations.
To date, at least 700 Los Angeles County residents have come in contact with someone who has measles, according to the Los Angeles County Department of Public Health, and 35 of those individuals were reportedly unvaccinated. Nineteen have come down with the virus with all but one having come in contact with an infected person who visited Disneyland sometime between Dec. 15 and 20. The California Department of Public Health (CDPH) has reported 93 verified cases statewide and 16 cases in seven other states and Mexico. Statewide, unvaccinated students from some school districts are being told to stay home.
Measles is a highly contagious viral disease that is still widespread in may parts of the world. It begins with a fever that lasts for a couple of days, followed by a cough, runny nose, conjunctivitis (pink eye), and a spotty, itchy red rash. The rash typically appears first on the face—along the hairline and behind the ears—and then affects the rest of the body. Children once routinely received their first dose of the MMR (measles, mumps, rubella) vaccine at 12 months or older, with a second dose usually administered just before the child began kindergarten. Severe complications from the vaccine are rare but can lead to pneumonia, encephalitis (swelling of the brain) and sometimes death. Studies conducted by the Centers for Disease Control and Prevention (CDC) have demonstrated that 99 percent of persons who receive the two doses of measles vaccine will develop an immunity to the disease.
The CDC this week reported 102 cases of measles in 14 states. CDC Director Tom Frieden said the U.S. is "likely to see more cases," adding that there is "aggressive public health action" to identify those with measles, to isolate the sick and to quarantine those who have been exposed. Frieden said despite the nation's 92-percent vaccination rate, there is growing evidence that more parents are not vaccinating their children.
"What we've seen is, over the last few years, a small but growing number of people have not been vaccinated. That number is building up among young adults in society, and that makes us vulnerable," Frieden said.
There are no reported cases of measles within the Palmdale School District. "I have been speaking with the county department of health several times a week," said Julie Ferebee, health services director for the Palmdale School District. "So far we have no cases. Because of the seriousness of this disease and the speed of infection, we are keeping a very close watch on our students and staff." Late last week county health officials identified a 23-year-old woman from the Antelope Valley as having contracted measles. None of the remaining seven school districts in the Antelope Valley have reported any students with measles.
New campaign aimed at teens
Orange, Los Angeles and San Diego counties (as of Feb. 3) had the most number of confirmed cases in the state with 28, 21 and 13 respectively. Ventura, San Bernardino, Riverside and Alameda counties this week had reported a combined 24 cases of measles.