World powers confront ISIS as latest threat to civilization
Rare convergence of former enemies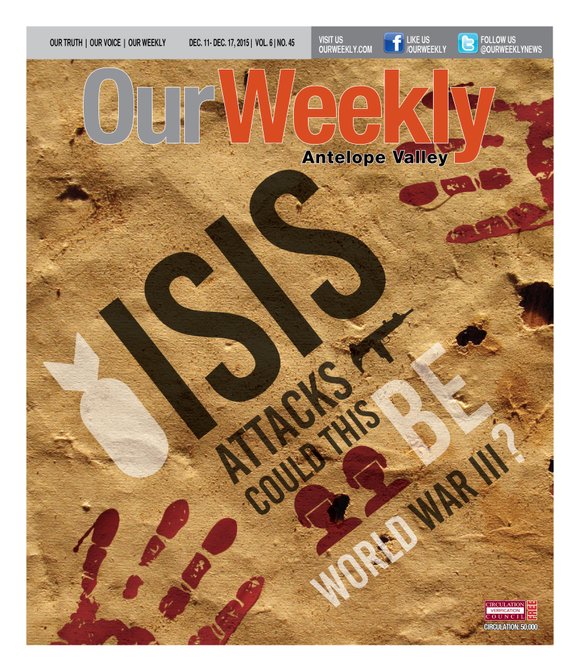 The deadly terrorist attacks last month in Paris, Beirut and in Mali have galvanized the world powers into a unified battle front against the Islamic State of Iraq and Syria (ISIS). The now regular bloody rampages orchestrated by the terrorist organization have resulted in an unexpected partnership between the Untied States and Russia—a military alliance not witnessed in 70 years—with many world leaders, counter-terrorisism experts, and civilians wondering if this could be the dreadful beginning of World War III.
The rapid increase in terrorist attacks and threats from al-Qaeda, Boko Haram and ISIS have western powers on edge. Killing sprees have taken place in Nigeria, Denmark, Turkey and as close to home as San Bernardino. The two jihadi terrorists who killed 14 persons and injured another 21 individuals last week at the Inland Regional Center have not been identified as members of ISIS, although reports indicated that Pakistan native Tashfeen Malik gave her allegiance to ISIS while residing in Saudi Arabia—even posting praise of the organization just hours before the attack and subsequent shootout with police.
War makes 'strange bedfellows'
No one believes a war against ISIS will be an easy victory. Experts believe the traditional method of war with uniformed, identifiable fronts enjoining the battle will not occur. Instead, the fight today is more of a "cat-and-mouse" game relying primarily on intelligence gathering, and it may take many years for the West to realize victory. A more clear perspective on how long it may take to defeat the ISIS leadership may resemble the decade-long hunt for Osama bin Laden. ISIS has generally been described as a trans-border terrorist organization that uses extremist interpretations of Islam to wage war against non-believers, and there is considerable difference between defeating ISIS itself and eliminating its ideology of creating a self-ordained caliphate.
Approximately 63 nations are part of the latest military coalition fighting in the Middle East, including historic allies such as France, Great Britain, and allies of convenience like Russia and Iran. A unified Germany has also signed up to fight. Japan pledged its help to the United States shortly after 9/11.
ISIS' terrorist activity is not necessarily linked to a certain place as much as it depends on the group's goals of strengthening the idea of establishing a social incubator to facilitate the movement of its elements from one country to another. Its ultimate goal is to attract as many recruits as possible of whom it would train and control from its main bases in Iraq and Syria, then return these young people home to commit deadly acts in the name of what they understand to be Allah. The growing numbers of American and European fighters within the organization confirms that war on ISIS is of an international nature and does not concern a specific region or country. ISIS is now staging its operations from different geographical locations—from Saudi Arabia, Kuwait and UAE to Europe—to attract as many "soldiers" as possible to build its terrorist "state."
The expanse of social media