Racial bias persists in juvenile justice
Young Blacks sentenced more often
Cynthia Gibson | 12/3/2015, midnight | Updated on 12/3/2015, midnight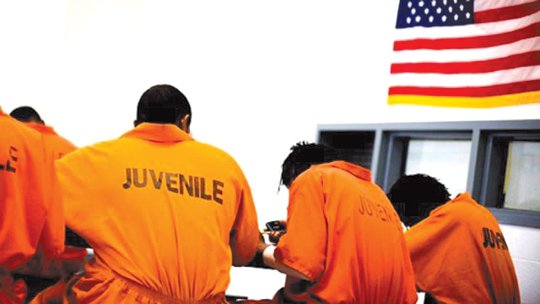 In 2006, in the small town of Jena, La., six Black teenagers were arrested for assaulting 17-year-old Justin Barker, a White student, on their high school campus during a week of heated racial tension. Barker spent two and a half hours in the emergency room before being released, and later that night he attended his school's annual class ring ceremony. The Black teens were initially charged with attempted murder for the assault on Barker.
The case for the group, who came to be known as the 'Jena 6,' sparked a national outcry for reform in the juvenile justice system for African Americans. Thousands of protesters, including the Revs. Jesse Jackson and Al Sharpton, converged on the town of about 3,000, leading to the charges being reduced to aggravated battery and conspiracy battery for all but one of the teenagers.
Mychal Bell, who was 16 at the time of the attack and was on probation from a December 2005 battery conviction, had two subsequent violent crimes, and was charged as an adult.
In 1999, 12 and 13-year-old siblings Curtis and Catherine Jones were the youngest children to be convicted of murder in the United States. The pair plotted to kill a family member who had been sexually abusing them; the pair also attempted to kill their father and his girlfriend whom the two thought were allowing the abuse to continue. After killing their father's girlfriend first, the siblings fled to a wooded area near the home and were found by the police the next day. Despite the documentation of sexual abuse by social service agencies and their age, Curtis and Catherine were convicted by a Florida court and served 18 years for first degree murder.

In April 1989, five Black and Latino teenagers, ages 14-16, from Harlem, N.Y., were convicted of raping a White woman jogging through Central Park. Four of the teens served approximately seven years in prison and one was behind bars for almost 13 years. In 2002, an investigation found DNA and other evidence proving the woman had been raped and beaten not by the five teenagers but by a convicted rapist and murderer who confessed to acting alone in the attack.
The Jena 6, the Curtis and Catherine Jones case and the defendents in the Central Park Jogger case demonstrate what seems to be a rule more than the exception when it comes to sentencing for African American juveniles in the United States. Although overall arrest rates have been steadily declining nationally, Black youth are still twice as likely to be arrested as Whites. Black youth comprise 17 percent of all juveniles in the U.S., but 31 percent of all youth arrests.
Once arrested, according to the Burns Institute for Juvenile Justice, Fairness and Equity, youth of color nationwide are significantly more likely to be incarcerated than White youth. They also receive stiffer sentencing. In fact, in 2013, Black youth were 4.6 times as likely; Native American youth 3.3 times as likely; and Latino youth were 1.7 times as likely to be incarcerated.