Watts Riots: What has changed 50 years later?
A look back at a week of terror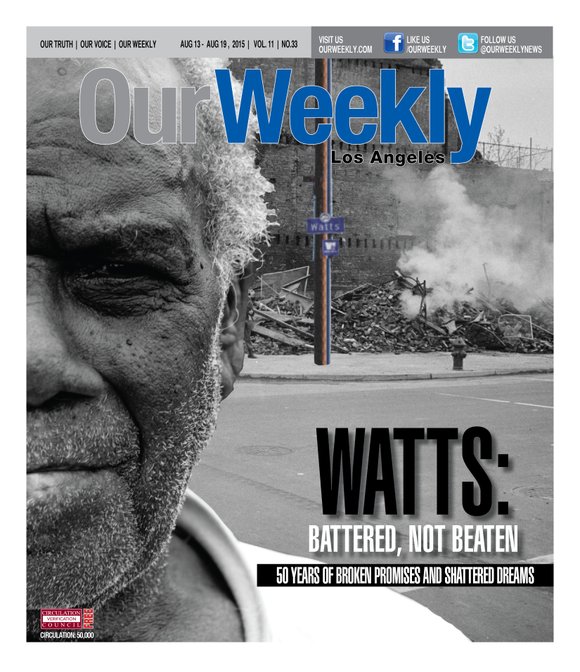 'Burn, Baby, Burn'
Among the famous names that swirled about the news that week (e.g. Yorty, Parker, Brown, Lindsay, et. al.), a local disc jockey—The Magnificent Montague (KGFJ AM-1230)—may have been the most prominent. It was his on-air catchphrase which was spray-painted on burned out buildings throughout South L.A.
The next five days consisted of a community-wide conflagration which ended with 34 persons dead and 1,032 injured. The civil unrest resulted in just slightly more than $40 million in damage to South Los Angeles where about 1,000 buildings were either damaged or destroyed. A coroner's report revealed that 16 deaths came at the hands of the LAPD, and seven by the California National Guard. The LAPD suffered 90 injuries and 136 members of the Los Angeles Fire Department were injured as well.
Many lots along Central Avenue, Avalon Boulevard, Main Street, Broadway and Vermont Avenue remain barren today, symbolizing a permanent scar to the still, woefully underserved community. Over the past 50 years, the economic taxbase, community resources, schools and the general ambition and outlook among residents have remained scarred and cut off from the prosperity that originally attracted about a half-million African Americans to the West Coast at the end of World War II.
An eyewitness to mayhem
Research reveals that about 30,000 Angelenos were directly or indirectly affected by the riots. The majority of these persons, of course, were in the crosshairs of the rioters/looters, the LAPD and, later in the week, the California National Guard. "Sweet" Alice Harris, co-founder of Parents of Watts Working With Youth and Adults, had what one would describe as a "ring-side seat" during the uprising, and at the time was residing in the Jordan Downs housing development. She recalls her neighborhood that week resembling an "armed camp" illuminated by flames and the sidewalks spattered in blood.
"That was a terrible time then, not just for Watts but for the entire city," Harris said, adding that many of the socio-economic problems endemic to Watts then are present today. "For a full week there was nothing but smoke, gunshots and sirens. People were shot dead right in front of where I lived." Harris has worked these past 50 years to erase the memories of the riots.
"Here's what we need in Watts: 'love, training and jobs,'" she explained, referring to the motto of her organization which strives to place underserved young men and women into job training and on to full-time careers in such areas as construction, emergency medical technician, nursing, and education.
"We come across the same problems today that we did 50 years ago," she said. "Now it's a criminal record; a young person with a criminal record believes he/she is through. That's why we worked so hard to pass Prop. 47 so that an old record can be wiped off ... the person can get a new start. We instill pride and determination in our young people and tell them each day to 'hold your head up' and 'you are somebody.' It's jobs, jobs, jobs! That's what is most needed today in Watts. We're training these young people and are developing within them character and self esteem that you need for a successful future."