Watts Riots: What has changed 50 years later?
A look back at a week of terror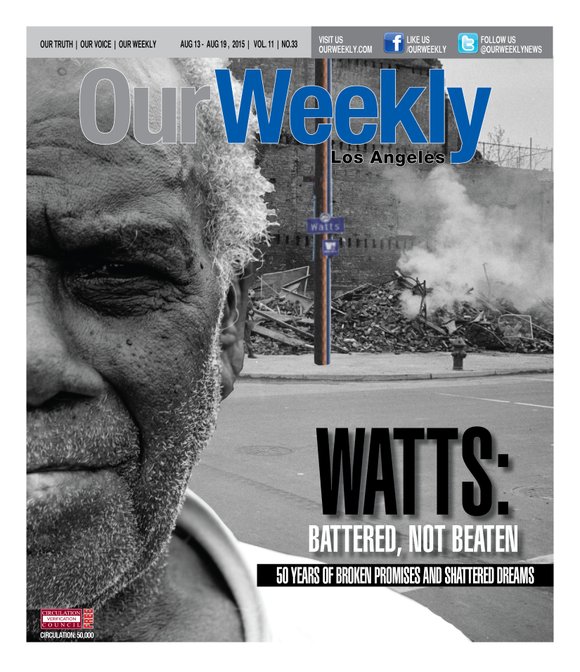 The ring of the old black phone had an ominous tone. Something had happened not far away which had the neighborhood on edge. "Hello, M.D.? Oh, M.D.! We've got to come pick you up (from work) right now ... the police beat up a boy down in Watts and they've been burnin' things ever since. Yeah, we're fine ... but you've never heard so many sirens. They're 'bout to break into White Front. We're on our way."
It was never a long drive to Union Station for M.D., but on this night little kids couldn't meet the Super Chief as they usually did. On the way back, they managed to duck past a gauntlet of flaming buildings along the old Vernon-Central shopping district. Just as the car pulled into the driveway, looters one block away had emptied and set fire to a Safeway market. Part of the gallows humor that evening included the comment: "Well, they sure lit Nat Diamond's cigar" in reference to a neon sign of a little Jewish man in a smoking jacket. That furniture store, along with dozens of merchants big and small in South Los Angeles, went up in flames and never returned to this side of town.
It was the Watts Riots. It was the end of the innocence.
If T.S. Elliot's seminal poem, "The Waste Land," could somehow posit criticism of mid-century urban America, it would undoubtedly lament the past 50 years in South Los Angeles. The nation this week will take a look back at Watts which is, arguably, the most familiar ghetto in the land. Watts has always been sort of a "step child" to Los Angeles—not always part of the city proper, but close enough to Downtown and the historic Black enclave stretching along Central Avenue to become the presumed hub of African American transplants to the City of Angels.
What perceived tranquility there was between the races came to a tipping point on Aug. 11, 1965, when a CHP patrolman passed motorist Marquette Frye and his brother, Ronald, at dusk at 116th Street and Avalon Boulevard. Suspecting a DUI, the two men were stopped, ordered out of their vehicle to take a sobriety test. Marquette Frye failed. The CHP officer radioed for a patrol car to pick up Frye; Ronald Frye was told he could not continue driving the car and, not far from home, proceeded to leave and get his mother so she could claim it. When the woman arrived, the original group of two dozen persons had swelled to more than 300. Mrs. Frye approached her son and scolded him for drinking. Frye began moving towards the crowd, which grew more hostile every passing minute on that warm summer evening. Soon both Frye brothers were struggling with the officers, and in an effort to subdue Marquette, one officer hit him in the head with his nightstick.
The crowd had swelled even larger. LAPD officers soon arrived, but long-simmering animosity between Blacks and local law enforcement resulted in the crowd growing to more than 1,000 persons. They were ordered to disperse. Then someone in the crowd spat at an officer; this person was detained and arrested for inciting a riot. But the crowd did not disperse, and by 8 p.m. passing vehicles were stoned; some White motorists were dragged out of the vehicles and assaulted. By 1 a.m. the outbreak appeared to be under control, but just before dawn unruly mobs again began throwing rocks and bottles and vandalizing stores.