Babyface, Peter Frampton among stars set to perform this year at A.V. Fair
Pat Benatar, Heart also scheduled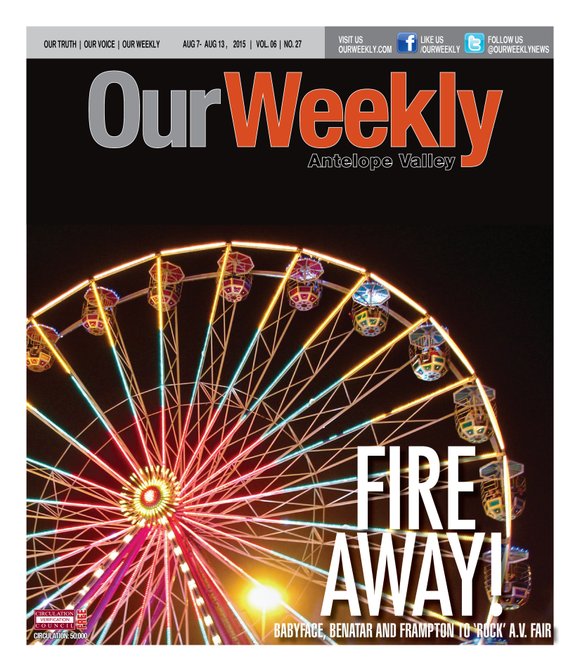 Everyone loves a county fair. The sights, sounds and aromas of the annual community festival attracts "kids of all ages" to a memory-filled experience that brings together family and friends to enjoy a warm summer's outing.
The 77th annual Antelope Valley Fair and Alfalfa Festival, scheduled Aug. 21-30 is, arguably, the best buy in town as tens of thousands of visitors each day are expected to delight in fanciful amusements, the very best in pop/rock music and, of course, practically every type of fast food fare imaginable. There'll be prizes aplenty on the midway, some of the most thrilling rides ever and, for the kids, lots of farm animals ready for riding and perfect for petting.
The low ticket price ($10 for adults 12 years and older, $8 for juniors 6 to 11 years, and for seniors 62 years and older) simply can't be beat considering an amusement park pass could easily run $95 per person. If you're an active member of the military (with a military photo ID), you get in for free. And parking? Just $8.
Of all the fairs taking place this summer around the Southland, the rural setting of the Antelope Valley Fair may be most picturesque. They all offer fun galore, but the Antelope Valley offering seems to have the right mix of city flair and good 'ole country flavor. Perhaps the biggest attraction each year are the outstanding musical acts which take to the various stages each night. Some of these acts are household names; others are gaining traction in the pop/rock genre as evidenced by the assortment of tribute bands who will pay homage to long-time radio favorites like The Beach Boys, Joe Cocker, The Doobie Brothers, Tom Petty and Foreigner.
There are some rock and pop superstars scheduled to perform this year as part of the A.V. Fair/Palmdale Auto Mall Concert Series. These acts also include R&B, banda and country /western artists. Here's a brief look at some of the famous names expected to "rock the night away" just a few hours after the first corn dog is munched and the last churro is crunched. Grandstand admission is free; additional seating closer to the stage ranges from $20 to $80.
Kenneth 'Babyface' Edmonds/Boyz II Men
First up at 7:30 p.m. on Aug. 21 are Kenneth "Babyface" Edmonds and Boyz II Men. Kenneth Edmonds reportedly received the "Babyface" moniker during his teenage years as a session musician. An outstanding guitarist, keyboardist, producer and arranger, Babyface is said to have innovated in the early 1980s the "jerk swing" style of R&B music having written and produced songs for Bobby Brown, Karyn White, Pebbles, Paula Abdul and Sheena Easton. He co-founded LaFace Records, the label which helped launch the careers of TLC, Usher and Toni Braxton.
The late Whitney Houston sought out Babyface to produce her hit "I'm Your Baby Tonight." He wrote and produced a mega-smash for Boyz II Men ("End of the Road") and also Madonna's number-one hit "Take A Bow." Babyface and guitar legend Eric Clapton shared billing on the chart-topping Grammy winner "Change the World." He collaborated once again with Houston for "Exhale (Shoop Shoop)" for the multi-platinum "Waiting to Exhale" soundtrack in 1995.