Floyd 'Money' Mayweather has achieved pop status
By Jason Lewis OW Contributor | 4/30/2015, 1:26 p.m.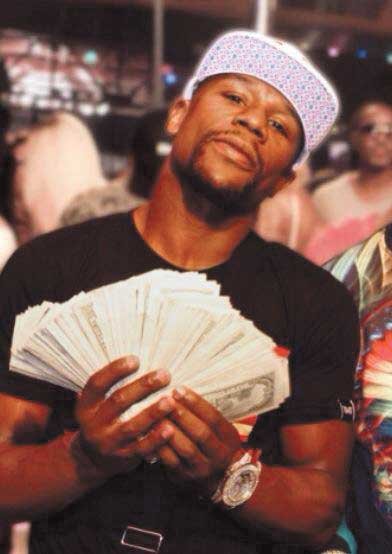 This Saturday night at the MGM Grand Hotel and Casino in Las Vegas, a boxing match will be at the center of attention, but that is not what high rollers are paying up to $100,000 for ringside seats to see; or the more wealthy folks who are paying $4,600 for seats in the nose bleed section, or what the everyday people are paying $90 to watch on television.
When the undefeated Floyd Mayweather finally steps in the ring against Manny Pacquiao, the one man that the public has been clamoring for him to fight for a good five years now, this will be more than a fight. This will be a once-in-a-lifetime event (well, until the rematch). While Pacquiao is a big name in boxing, Mayweather has crossed over into pop culture stardom. Whether people like it or not, and a lot of people do not because of his checkered past, Mayweather has reached the type of fame that the Kardashians have. Or Lindsey Lohan. Or Justin Bieber. Or Amber Rose. People who are famous and are considered 'must watch' regardless of whether the general public really knows much about their careers.
Mayweather is a slightly different case from those other celebrities, in that he is regarded as the best at his profession. Lohan was once known as a talented movie star before her ratchet behavior sidetracked her career. Bieber is wildly popular among a certain segment of the population. But he is known more for his childish antics and annoying behavior that constantly catches the attention of TMZ than he is for any of his songs.
And what exactly are Kim Kardashian or Amber Rose's talents? It appears that they are simply famous for being attractive in the eyes of many while taking off their clothes. Add in some ratchet behavior of their own, and the public cannot get enough of them. The Kardashians have parlayed that into hundreds of millions of dollars.
While Mayweather clearly has a skill, and is known as the best at his craft, that is really not his major selling point. That has not made him an A-list celebrity. In this TMZ-Twitter-Facebook-and social-media culture, his big-money lifestyle has endeared him to the public. Just like a Hip Hop star, he throws cash, literally, all over the place. He flaunts his massive wealth, shows off his reported $15 million car collection, and he rolls around with extremely attractive women.

Mayweather dropped his 'Pretty Boy' Floyd nickname in favor of the 'Money' Mayweather character. That lifestyle helps sell his fights more than what he actually does in the ring.
Whether people like this type of behavior or not, the public is fascinated by it. Many people love it, so they will watch his every move. Many people hate it, which leads them to watch him even closer. It is sort of like the scene from the Howard Stern movie "Private Parts," which was about the famed radio personality's career. It was said that people who liked Stern tuned in to his radio show for an average of one hour and twenty minutes a day. The people who hated him tuned in for an average of two and a half hours a day. In both cases, the people who liked him and hated him said that they tuned in so long because they wanted to hear what he would say next.