Black church continues mantle of liberation, social justice
From 'storefronts' to 'mega' sanctuaries, scripture and faith lay path to prosperity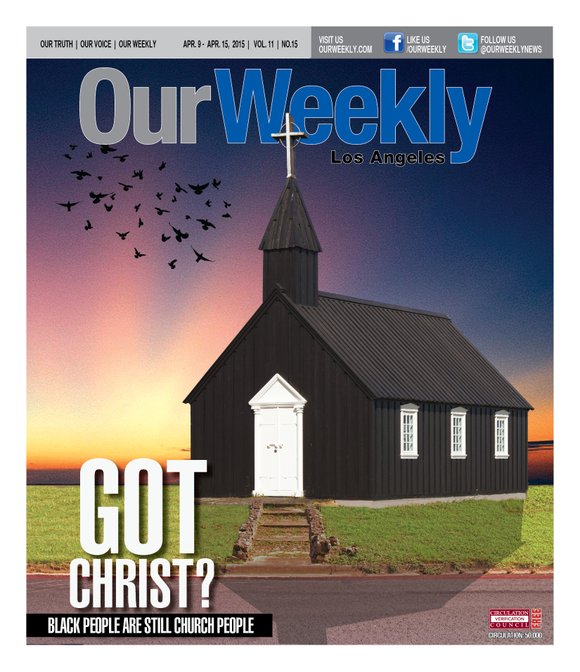 African American voices have always been lifted to Heaven. The infamous plantation fields may yield a valuable clue about why: the old "call and response" that was recited and rejoined to help sustain weary souls during centuries of back-breaking drudgery.
The Old Testament tales from Exodus recounting the deliverance of the Jews from captivity resembled the plight of the African slaves forever longing for a leader—a "Messiah"—to guide them through a societal wilderness of uncertainty.
"Go Down Moses" was also a frequent refrain of hope resonating daily within the lush Southern vistas of rice, tobacco and cotton. "Climbing Jacob's Ladder" became a familiar tome of hope during a continual search for truth and salvation. Even young David's eventual triumph against Goliath (representing the Jews and their fight against the Philistines, and for Black slaves, the defeat of the slavemaster), and so many other tales from the Old Testament, have served for centuries as a guide for African Americans in a never-ending quest for social stability.
Despite all the valued Black leaders—from today and yesterday—the greatest and most influential body of thought and purpose for African Americans in their near 400-year odyssey in Western civilization has been the church. From the little "storefronts" dotting the typical American inner city, to the Sampson-esque "mega structures," history reveals that the church has been the singular foundation of freedom, prosperity and perpetual hope for African Americans.
In Los Angeles, a leisurely drive along Broadway from Downtown to the Athens District near Watts may find as many as 100 sanctuaries—big and small—all vowing to save souls. Each is a sparkling example of Black America's quest for spiritual growth and, ultimately, salvation. The old churches of "Black Los Angeles" such as Mt. Zion Baptist, New Hope Baptist, Roger Williams Baptist, Second Baptist and First AME Church et. al. provided a foundation of faith during the formative years of Black residency after the third Great Migration (movement of Black families to West Coast following World War II). The congregations are still there—elders gone long ago—but the spirit and profession of faith espoused in these mid-century sanctuaries reveals a history of courage and purpose at a time when the City of Angeles was segregated.
Storming the 'gates of hate'
Taking as example the fate of the Walls of Jericho, the persistence of faith within the Black church eventually knocked down and breached the centuries-old "gates of hate" that once shielded the rationale of chattel slavery—and later Jim Crow—from divine providence. The Black church followed the directives of Jesus ("... for all who take the sword will perish by the sword."—Matthew 26:52-54) in proclaiming that the prosperity of Black America is not linked to violence but, rather, is a result of love of your enemy.
The Book of Job has been a pointed example to African Americans of the virtues of patience and unyielding faith in acknowledging God's promise to deliver the faithful from adversity. The website "About Religion" explains the relevance of the Book of Job as it applied to the oppressed: "When bad things happen to us, we cannot presume to know why ... no matter what our circumstances may be, God rewards great faith, sometimes in this life, but always in the next."