Student Athlete of the Week
Gabrielle Traylor excels at Notre Dame Academy
By Jason Lewis | 4/2/2015, midnight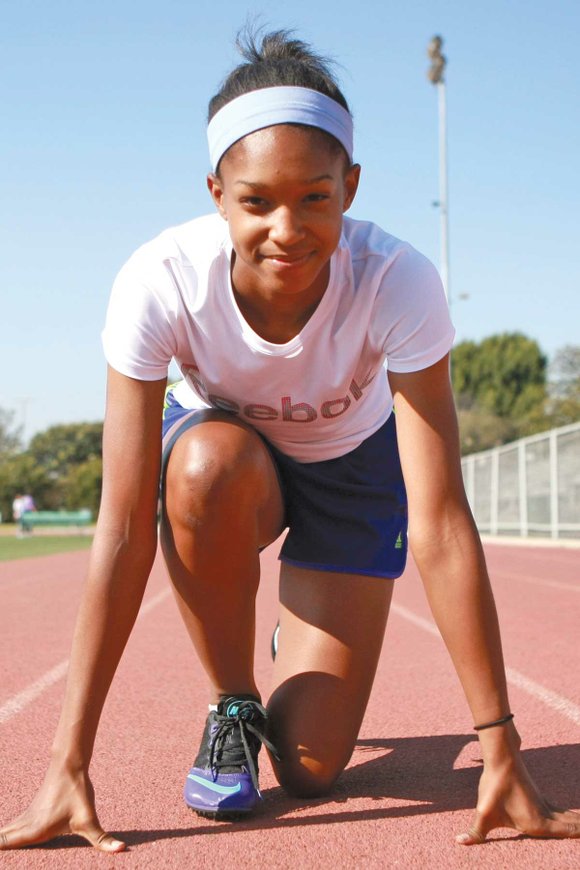 A path of academic and athletic success has been paved for Gabrielle "Gabby" Traylor, and she has used it to become a well-rounded student athlete.
The bar has been set high for Traylor, who excels at soccer and track, as her father attended the University of Michigan, her mother Eastern Michigan University, and her three older sisters all attended college (University of Nevada, University of San Francisco, and Xavier University).
"I feel like, because they all have a good education, they really pushed getting a good education on to me, and they really put it in my mind that a good education is really important," Traylor said.

Like her older sisters, Traylor started playing soccer as a young child, and picked up track just before high school. She smiled as she pointed out that she believes that she is the fastest of the group. And she is proving it on the track, competing on the varsity level as a freshman.
Traylor took up soccer when she was four years old, and she was always one of the top players on her club teams because of her speed. Being extremely fast naturally gravitated her to the track, which she started running in middle school. She runs the 100 and 200-meter dashes, and she is on the 4x100-meter relay team.

While coming from an athletic family has helped Traylor, that is not the only thing that helps her succeed.
"My speed does come naturally to me," Traylor said. "But I do work hard and I try to improve on things, like my form, because I run like a soccer player."
Hard work is a common theme with Traylor, who has a 3.69 grade point average at a high school that is nationally recognized for its academic excellence. In 2013, 96 percent of Notre Dame Academy's graduates went on to a four-year college, three percent went to a two-year college, and one percent went to the military.
Like most student athletes who do well in the classroom and in their sport, time management is important for Traylor to do well.
"I like to set aside time to get school work done; it's important to me because I want to get a good education in college," Traylor said. "Weekends are pretty crazy for me because of soccer, track and schoolwork. I try to fit a lot of things in on the weekend, and I try to do things whenever I have time, so that I don't have to wait until the last minute."
Most days Traylor will go from track practice, then stop at home to do her homework and study, and then she's off to soccer practice. She takes pride in getting so much done in so little time, and she values her education.
"I've always wanted to get good grades," Traylor said. "Not just for my parents, but I've always felt that getting good grades is a real accomplishment. It's something that I've always wanted to do. I study really hard and I always do my homework."