Shuttle carrier on display
NASA 911 served 38 years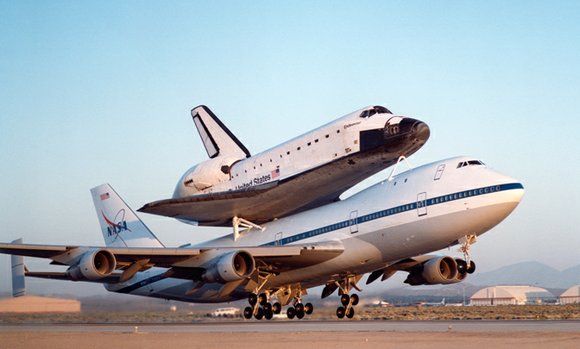 The second of NASA's two modified Boeing 747 Shuttle Carrier Aircraft is open for public display at Joe Davies Heritage Airpark in Palmdale. The early-model airliner, once used to carry the space shuttle "piggy-back style" back to Florida when it would land at Edwards Air Force Base, is parked next to a Boeing B-52D "Stratofortress" on the west side of the outdoor aircraft museum. You can see both aircraft, along with many more that were either designed or built at Edwards, each weekend Friday through Sunday.
Called the NASA 911 and retired in February 2012 after 23 years of service, the jumbo jet flew a total of 386 flights. It was built in 1973 and spent its first 15 years with Japan Air Lines. Its final mission for NASA followed the 2009 final flight of space shuttle Atlantis which serviced and upgraded the Hubble Space Telescope. The first ferry for 911 occurred on May 3, 1991 when it carried the space shuttle Endeavour (on display at Exposition Park in South Los Angeles) back to the Kennedy Space Center in Florida.
Upon its retirement, NASA 911 had amassed 33,004 flight hours over a 38-year career. After making its final flight, the jetliner was initially set aside as a parts provider for NASA's Stratospheric Observatory for Infrared Astronomy. NASA still owns the 911; the Armstrong Flight Research Center, also at Edwards, provided the aircraft to the City of Palmdale on long-term loan for public display.
The other jumbo jet once used to ferry the shuttle back to Florida is NASA 905, now on permanent display at the Johnson Space Center in Houston, Texas.
Joe Davies Airpark features more than 25 historic aircraft and related artifacts in an outdoor park-like setting which highlights the once-mighty aeronautics industry in Southern California. It is open to the public free of charge from 11 a.m. to 4 p.m. Friday through Sunday. Guided tours are available Monday through Saturday upon request.