Jaquel Pitts: elevating from foster care to potential NFL draftee
By Ural Garrett OW Contributor | 10/30/2014, midnight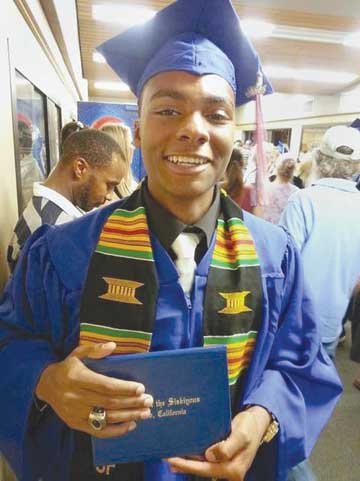 According to a 2013 study conducted by the Child Welfare Information Gateway, an estimated 399,546 children are in America's foster care system. Out of that high number, Gary Strangler, executive director of the Jim Casey Youth Opportunities Initiatives, says thousands who age out of the system after turning 18-years-old have difficulties adjusting to life as an independent citizen.
"In fact, over the past decade, more than 200,000 teenagers have aged out of foster care often without achieving permanent family connections or those critical building blocks of support," explained Strangler.
Despite overwhelming obstacles, one young man managing to excel post-foster care is Berkeley native Jaquel Pitts. Since making his exit from the system the day after his high school graduation in 2012, the 20-year-old has managed to earn an associate degree in social science from College of Siskiyous. He is working on his bachelor's degree and pressing toward a promising NFL career.
Around age five, Pitts' mother Ashanti McMickin relinquished him to child protective services as a result of what he calls "mental complications." Pitts admits the beginning of his experience under foster care wasn't an easy adjustment.
"The first couple of days in placement, when I realized I didn't have my mother in my life, I cried for at least two weeks straight," said Pitts. "I never had a father in my life, and she was all I knew." Feeling like an outsider was something that bothered him for awhile. "It's awkward and discouraging when you see your friends with their biological parents and you have to go home to someone who's not related to you," says Pitts.
Regardless, he credits his "strong sense of mental fortitude" as essential to helping him persevere. "The key to my foster care success was, I knew at the end of the tunnel, there was light, and if I kept my eyes on the prize, I knew things would get better."
Throughout his 14 years within the Contra Costa County foster care system, Pitts moved through five different homes due to parents no longer wanting the responsibility or their diminishing ability to provide for him.
His first guardians were an elderly couple who he said instilled in him a hard work ethic, and taught him to be respectful of others.
On the opposite end, Pitts explained that some guardians were clearly only there for the money.
"Close to my exit from foster care, there was one person who actually put their hands on me and it was my foster mother," he says of the incident. "I heard her say, 'they're not paying me anymore so he has to go.'"
Moments like these gave Pitts added motivation to be on his own. "I was so determined to get out of high school, go to college and get a degree that I knew that everyday there was going to be something trying to degrade or discourage me."
Helping Pitts along the way was a strong interest in academics and sports. By the time he finished elementary school, he had earned 30 certificates for academic excellence. Making the honor roll multiple times, he began an athletic career. Alongside basketball and track, Pitts found a huge passion for football.