Bullying robs self esteem, dignity before it consumes young lives
Antelope Valley schools take action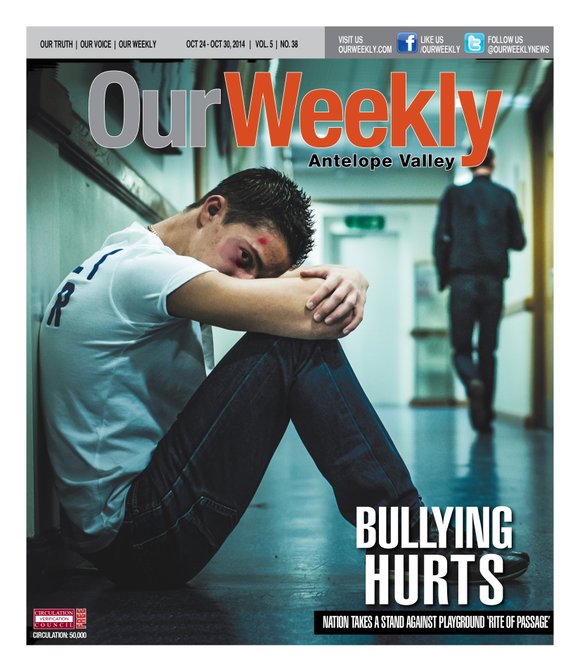 "Our program covers the physical and emotional harassment, as well as cyber-bullying," said Library Director Thomas Vose. "We provide an opportunity to find out what you can do to recognize and prevent bullying in your family or your life."
The California legislature in 2012 passed AB 9 or "Seth's Law," named after a 13-year-old Tehachapi boy who killed himself after years of anti-gay bullying at school. It strengthens existing state law to help protect students from bullying. The law focuses on protecting students who are bullied based on their actual or perceived sexual orientation and gender identity/expression, as well as race, ethnicity, nationality, gender, disability and religion. It was named after a 13-year-old California student who in 2010 committed suicide after years of anti-gay bullying that his school failed to address. Seth's Law says: "If school personnel witness an act of discrimination, harassment, intimidation or bullying, he/she shall take immediate steps to intervene when safe to do so." Also, Seth's Law adopts a process for receiving/investigating complaints of bullying, including a requirement that school personnel intervene if they witness a bullying episode.
AB 746 was also signed into law in 2012 to help more easily define and identify bullying. It states: "Bullying, including cyber bullying, is grounds for suspension or expulsion." The law further defines bullying as "one or more acts of sexual harassment, hate violence, or intentional harassment, threats, or intimidation, directed against school district personnel or pupils, committed by a pupil or group of pupils."
Shadow Hills Intermediate School in Palmdale instituted in 2012 a mandatory contract that all students and parents/guardians must sign. In part, students pledge to: "...realize the importance of resolving issues in a friendly manner," "encourage my friends not to bully others" and to "not have negative physical confrontations with my fellow students."
A report released last year by the AVUHSD found that about 400 students at Antelope Valley High will be cyber bullied in any given semester. School administrators have come up with a unique program, "uKnowKids," to combat cyber bullying at home as well as at school. They offer four tips: (1) Encourage kids to tell a parent, teacher or school counselor if cyber bullying is occurring; (2) tell kids if they become cyber bullying victims that they will not be punished, and reassure them that being cyber bullied is not their fault; (3) have children keep cyber bullying messages as proof that the cyber bullying is occurring, and (4) have parents contact the school administration and police any time threatening or sexually explicit messages are sent to their children.
Going further, a group of educators in Lancaster produced in 2012 "Lancaster, CA: A City Unites to End School Bullying" which has been shown at campuses. The film features high school students mentoring younger students about how to prevent and respond to bullying.
Respect via intimidation
All of these measures have been put into place here and worldwide because of bullying. The schoolyard bully, traditionally, has been the least liked classmate. They know that, and proceed to command respect via intimidation and fear. Medicine.net, a health and wellness website, revealed last year that almost 30 percent of students from grades six through 10 have either been a bully or the victim of bullying. Up to 75 percent of those persons surveyed said that they had been cyber bullied. But it's not just kids. More than 40 percent of American workers reported that they have bullied in the workplace.