Bullying robs self esteem, dignity before it consumes young lives
Antelope Valley schools take action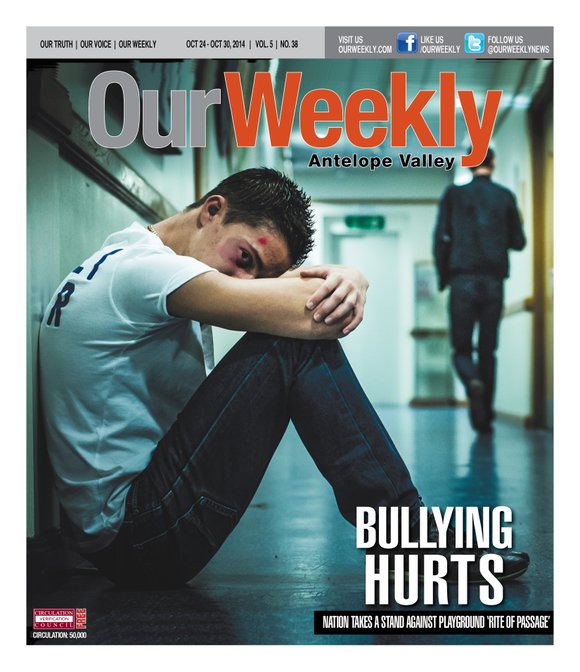 We've seen the statistics, and they are troubling. We've seen the participants, and they are younger each generation. We've seen the results, and they are often tragic.
School bullying has become a national topic of concern as children and youth from kindergarten through college are navigating a much tougher and frustrating school day than ever before. With October serving as National Bullying Prevention Month, more information is being disseminated to help persons to understand, prevent and to counter bullying. The campaign has swept past the school yard into the halls of Congress as parents, educators, legislators and law enforcement are taking on this so-called youthful "right of passage" that has gotten far out of control.
The federal government began its push in 2010 to identify and circumvent the schoolyard bully who has traditionally tormented the other kids with varied methods including lunch money "shakedowns," making fun of appearance, deriding a physical handicap, or just being an "outsider." Racial and ethnic slurs on campus, still common among some students, today have taken a back seat to hurtful insults hurled at those who may look, sound or act differently. There is also a specific byproduct of the digital age, "cyber bullying," which typically involves texting that is considered offensive and/or intimidating, as well as the online distribution of sexually explicit images generally meant to be shared between two people (i.e. boyfriend and girlfriend).
Children have embraced the immediate gratification of the digital or "cyber" age. New technology, however, is always a few steps ahead of our basic understanding and application. Since "tweens" and teens tend to break up frequently, one party may seek revenge in the form of releasing to the public nude and/or sexually explicit images. The image is now on permanent public display. This scenario is among the more pronounced aspects of "cyber bullying." Shaming, betrayal, threatening, misrepresentation and just plain lying are all part of today's "cyber-teen" equation.
The Antelope Valley Union High School District (AVUHSD), the Palmdale Unified School District and the Los Angeles Unified School District have each taken direct aim at identifying and stopping the schoolyard bully before their actions result in tragedy. Lancaster in 2012 had two teen suicides which, according to their classmates, resulted from bullying.
A little boy at Lincoln Elementary School in Lancaster was bullied so much that year that he didn't want to go to school in fear of landing time and time again in the nurse's office for bruises and bleeding.
A 13-year-old Palmdale boy last year couldn't withstand the daily bullying and shot himself in the head after leaving a suicide note explaining his desperation to escape ceaseless torment.
A junior varsity football player at Vasquez High School in Acton in 2008 was constantly poked and teased and one day walked into the boy's restroom and put a pistol to his head. He was just 14.
Educators take proactive stance
Palmdale's Child and Family Guidance Center last week took the anti-bullying campaign directly to parents and children with a Bullying Prevention Workshop at Palmdale City Library. In serving as the largest provider of mental health services in the Antelope Valley, the family guidance center operates a a school-based anti-bullying program at Desert Pathways High School. They are extending their message so that more people can become aware of the problem and to obtain solutions that may prevent one child from becoming a perpetrator and the next a victim of bullying. Throughout all Antelope Valley secondary schools, administrators and school psychologists; supervisors and administration personnel are being trained daily on how to address bullying and how to de-escalate potentially volatile situations.