New year will bring a high-tech hospital to South L.A.
By Lisa Fitch OW Contributor | 10/23/2014, midnight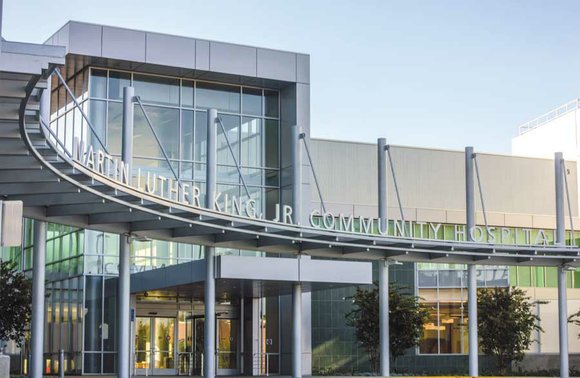 As the seasons change, most everyone is looking forward to the holidays. But those living in South Los Angeles are anticipating the spring of 2015, and the grand opening of a really big present—the new Martin Luther King Jr. Community Hospital.
"I'm most looking forward to being a center of excellence for the community," Dr. Elaine Batchlor said during a recent tour of the facility. "It's all about taking care of people. That's why I went into medicine. It's exciting to have a place that's beautiful and state-of-the-art to care for the community."
Batchlor, 56, was appointed CEO of the Martin Luther King Jr. Community Hospital (MLKCH) two years ago. But she doesn't lead a very large staff quite yet.
"We have about 37 on staff now, and we're ramping up to 800," Batchlor said. "The real work comes when we have to hire and train those 800 to work effectively as a team."
That team will be working in the brand new facility, built to house the most up-to-date medical equipment available, including an electronic health records system with portable computers on wheels in patient care areas.
The first leg of Batchlor's tour led past vacant desks and chairs in admissions, and through an empty 21-bed emergency room, intensive care and radiology areas, strategically located close together on the first floor to provide quick and convenient care for ER patients.
Batchlor smiled when she was asked if it's pretty cool for an administrator to start a new venture in a new facility—a hospital which she has been instrumental in planning and creating from the ground up.
"It's cool, but it's also a lot of work," she said. "It's a lot of work because you're starting from scratch."
The new Martin Luther King Jr. Community Hospital is a private, non-profit safety-net hospital governed by an independent, eight-member board of directors. As part of the coordinating agreement between the County of Los Angeles and the University of California, UCLA will play a leading role in developing and maintaining medical care quality standards.
Construction began in 2010, after the county and the University of California jointly sponsored AB 2599 to ensure the long-term financial viability of the new hospital.
Although the building is finished and most of the furniture has been installed, Cerner, the electronic health records system, is still being wired throughout the facility and an assortment of vital health equipment is being tested and integrated into that system.
"Now we're building our medical staff," Batchlor said, noting that the bright, roomy, high-tech operating room has been a real selling point during staff recruitment. "We have a great group of doctors coming together."
A number of doctors will be coming from UCLA, where some are currently teaching or conducting research. These doctors will also be developing the rules, regulations, processes and standards for the entire MLKCH medical staff.
In the UC system/county of Los Angeles coordination agreement, UC promised to assist with hiring the chief medical officer, develop the hospital's graduate medical education program and assist with other pre-opening activities.