Black gun tradition reveals courage and torment within 2nd Amendment
'Ol Betsy' and armed self defense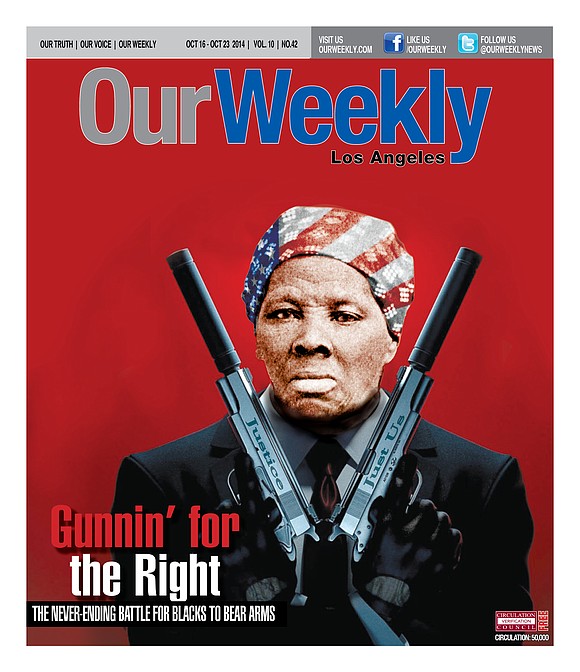 Allow me to introduce myself. My name is Bessie Winchester. Companions throughout the ages have often called me 'Ol Betsy.' I was born in 1866, serving as the assault weapon of my day, and conceived from an urgent need to fire more rounds more accurately against my enemy than any weapon prior. Although I have cousins with names like Colt, Remington, Smith & Wesson, Glock etc.—some of which preceded my birth and many others born after—I came to represent self defense to my bearers when confronted with imminent threat and danger. I was there unexpectedly in 1850, just after passage of the Fugitive Slave Act, to protect runaway slaves against violent oppression and to provide them with a viable, confident pathway to freedom.
After passage of the Fugitive Slave Act, runaway slaves knew they could not survive without keen wits and a gun. The Pittsburgh Gazette, a Black newspaper, advised African Americans to ". . . arm themselves and fight for freedom as need be, but not to turn and run away."
Consequently, slave catchers began to meet armed resistance from runaway slaves. This trend continued to the extent that some runaway slaves had been given new "repeater" rifles from White abolitionists and missionaries. Such actions reportedly enraged political leaders (i.e. Henry Clay, John Calhoun) who authored the 1850 legislation (the Compromise of 1850, which included the Fugitive Slave Act).
Prior to the act, the Michigan Negro Convention, convened in 1843 and called on Blacks to wage "unceasing war" against slavery. Five years later at the Colored Suffrage Convention in Troy, NY, free Black abolitionist Rev. Henry Johnson stated emphatically ". . . the colored population [was] ready to take the musket, if necessary, to defend our churches, our family associations and the rights of our neighbors."
In 1852, Frederick Douglass stated: "The motto of Virginia 'Death to Tyrants' is well the Black man's, as the White man's motto." In response to the Fugitive Slave Act, Douglass opined then: "You have the fullest liberty to plunder, burn, kill as you may have occasion to do to promote your escape." Douglass may have been inspired to say this in response to Nat Turner's Rebellion of 1831 in which armed Virginia slaves took the lives of 57 White citizens before the rebellion was suppressed and Turner was later hanged. Fear of the slave uprisings would lead southern legislatures to take aim at the rights of free Blacks and slaves to obtain arms for their defense. "A man's right rests in three boxes: The ballot box, the jury box and the cartridge box," Douglass said then. In 1841, armed and free Blacks in Cincinnati defended themselves successfully for the first time from a racist White mob.
Years before, an 18th century Maryland law commanded that "no Negro or other slave shall be permitted to carry any gun or any offensive weapon." By the 1850s, the nominal (ordinary) slave class (including some free Blacks who lived within the shadow of slavery) mostly outside of the Deep South, were armed more than history would reveal, according to author Nicholas Johnson's 2014 book, "Negroes and the Gun: The Black Tradition of Arms." Through a variety of methods, the access to firearms for free Blacks would soon provide slaves with weapons—an indispensable asset—to use upon their escape. Most often, though, slaves stole guns for protection against "slave catchers," or received them from sympathetic White abolitionists (ex. John Brown) and White missionaries (Mormon, Quaker) after passage of the Missouri Compromise and the resulting Fugitive Slave Act.