Award-winning author J. California Cooper dies at 82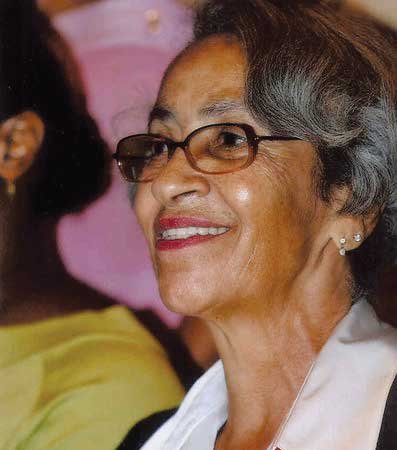 J. California Cooper, the author and playwright whose folksy, first-person narratives depicted Black women as they struggled through a world of hostility and indifference, died on Sept. 20 in Seattle, Wash. She was 82.
Born Joan Cooper in Berkeley, to Joseph and Maxine Cooper, she was evasive about her date of birth to interviewers in later years. Her daughter Paris Williams, who was with her at her deathbed, said she was 82. Later, when embarking on a literary career, she adopted the middle name "California" in much the same way that dramatist Thomas Lanier Williams took up the handle of "Tennessee."
Born with a vivid imagination, Cooper made up stories in which she cast her prized collection of paper dolls. Later in adolescence, when her mother forced her to give up these childish fantasies, she turned her creative bend to pen and paper and began to write things out.
Enrolling in numerous colleges and trade schools, including the University of California at Berkeley, Cooper never earned a degree. Saddled with the responsibility of raising her daughter, she toiled at such mundane jobs as manicurist, secretary, and even a truck driver on the Alaska pipeline, while writing during her idle time.

Eventually she channeled this vocation into writing for the stage, and was named San Francisco's Black Playwright of the Year for 1978. While immersed in that city's theater world, she made the acquaintance of "The Color Purple" author Alice Walker, who encouraged her to channel her writing into short stories, and then novels.
Many of the tales she spun utilized the literary term called "magic realism," defined as a genre in which the supernatural impedes upon characters that inhabit a natural, familiar world. The strange and fantastic are subjected into a conventional setting depicted with realistic detail. In Cooper's fiction, the characters that propel the story are marginalized due to their gender and race.
Throughout these yarns, Cooper embeds her staunch Christianity and a facility with dialect, both slave-era jargon and rural colloquialisms, giving her tales of homespun charm and accuracy in sharp counterpoint to the metaphysical.
One of these short stories, "Funny Valentines," was transcribed into a HBO television movie starring Loretta Devine, CCH Pounder, and Alfre Woodard, with acclaimed filmmaker Julie Dash handling the director's chores.
The plot has all the characteristics of most Cooper stories, with Woodard portraying an affluent New Yorker who takes a reprieve from her philandering husband by visiting her hometown down South, with her young daughters in tow. Once there, she reconnects with various family members, especially Devine, her cousin and childhood confidant, and the two women bond together to mend a longstanding rift in their relationship.

A prolific storyteller spinning haunting tales in which her heroines endured the earthly tribulations of abusive or unfaithful husbands, prostitution, substance abuse, or simply grinding poverty, Cooper eventually produced a novel, "Family" (1991) told from the point of view of Clora, a 19th century slave who commits suicide to escape the horrors of bondage. Her ghost then serves as a spiritual narrator of the lives of her descendants from the Civil War onward.
Like many of Cooper's protagonists, Clora finds herself a victim of the sins of others, then reaches a higher plane by virtue of forgiveness and is redeemed. The technique of magic realism again manifests itself in the 2004 novel "Some People, Some Other Place,' which takes place in the Depression of the 20th century, and involves an unfortunate woman, Eula Too, newly arrived in Chicago from her native South. Soon enough, she is summarily raped by a man pretending to be her benefactor, and left for dead. She is rescued by the madam of a high-end brothel who takes her on as a celibate personal assistant. This tale of despair and redemption is narrated by the fetus within her—the product of her violation.
Among the literary awards bestowed upon Cooper were the American Book Award (for the 1998 short story collection, "Homemade Love"), the James Baldwin Writing Award, and the Literary Lion Award from the American Library Association.
Cooper spent much of her life in her native Bay Area and Texas before moving in with her daughter in Seattle. She is also survived by a sister, Shy Christian.