'Black Friday' is now obsolete as retailers open earlier for dollars
AV Mall in sales marathon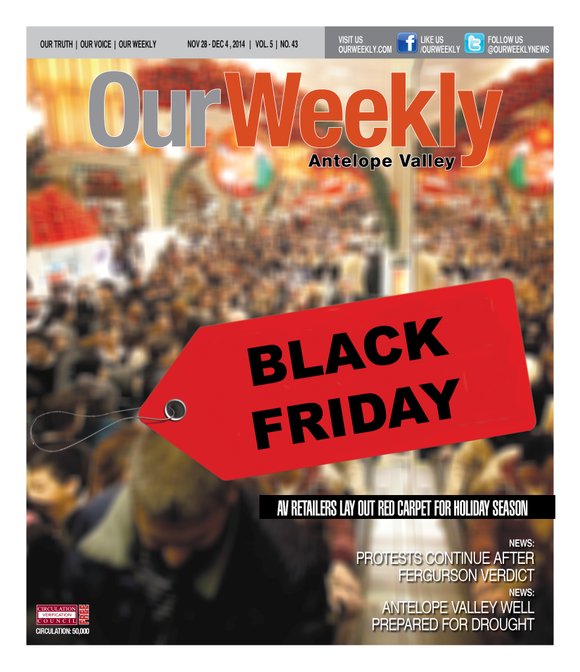 Today may be the last "Black Friday." Department stores have decided not to wait for the last balloon float down the Macy's Thanksgiving Day Parade route, they'll forgo the final football whistle, and they are providing less time each year to digest even the last slice of pie. American retailers want you in the stores as early as...yesterday.
With the advent of "Small Business Saturday," "Cyber Monday " and practically any other consumer catchphrase designed to open your pocketbook, the nation's merchants depend on the beginning of the holiday season to shore up lost sales and place their delicate balance sheets into, well...the "black." Retail chains such as Wal-Mart, Toys 'R' Us, JC Penney, Best Buy, Macy's, Sears, Kohl's, Kmart and Target opened the majority of their outlets at 5 p.m. and 6 p.m. yesterday. Palmdale's Antelope Valley Mall, 1233 Rancho Vista Blvd., was not to be outdone having greeted shoppers last night at 8 p.m. and will stay open for a marathon 25 hours until 9 p.m. tonight. And to make sure local shoppers know exactly when and where to park, enter, shop and purchase, the Antelope Valley Mall has produced a unique on-line video for timely Black Friday tips at www.av-mall.com.
Fewer customers nationwide are expected to trek out today--naturally after the heavy snowfall in the Great Lakes region and along the East Coast--but more than 61 percent of consumers say they plan to shop either online or in brick-and-mortar stores. The National Retail Federation (NRF) last week said that only 18.3 percent of respondents to a poll indicated they would hit the stores this weekend (about 95 million people), down 23.5 percent from last year. Retailers have traditionally earned up to 40 percent of their annual sales during the last few months of the year. Another 60 million persons will shop tomorrow, according to the NRF, and add 30 million more on Monday and the nation's retailers may recoup consumer dollars that remain in short supply because of the uneven recovery from the Great Recession. Total sales nationally for 2013 Black Friday amounted to $61.4 billion.
Who are these people?
So who is out there camping out for up to a week in the middle of the night? Young millenials comprise a large portion of the diehard shoppers. According to the NRF, nearly 80 percent of consumers ages 18 to 24 years will face the adversity--much like the Pilgrims--and wait patiently in the cold Antelope Valley night for the store to open. Some will cover all bases and shop "online" while "in line."
"For younger shoppers, shopping on Thanksgiving and Black Friday is as much a social experience as it is a buying mission," said Pam Goodfellow, an analyst with Prosper Insights and Analytics which conducted the survey for the NRF. "It sort of an annual 'happening' for millenials considering the advent of social media, more disposable income (i.e. no mortgage, college, medical bills, etc.) and young people shop online much more frequently than other consumers. And waiting in line for hours is nothing new...they do that all the time for concerts or when the latest electronic gadget hits the market."