'Beyond the Lights'—Magnificent!
Hollywood by Choice
Gail Choice | 11/27/2014, midnight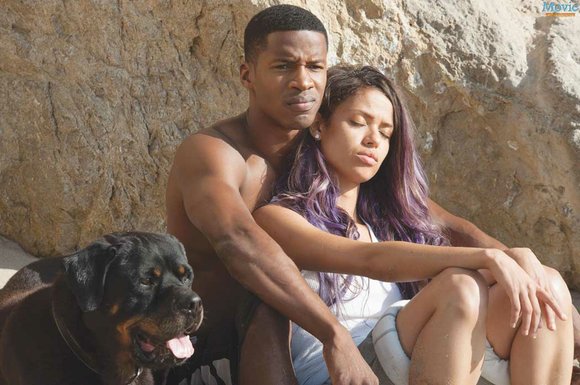 "Beyond the Lights" will make you believe in love all over again. And what's so unique about this film is that it's about Black love.
Gugu Mbatha-Raw ("Belle") and Nate Parker ("Nonstop") star in the Gina Prince-Bythewood ("Love and Basketball," "Secret Life of Bees") film "Beyond the Lights" now in theaters. It grabs your heart from the very beginning. On one side of the globe we meet a mixed-race little girl with "hair" issues, a great voice, and a pushy mom. On the other side of the globe we're introduced to a handsome, robust, caring young police officer with hero written all over him. When their worlds collide it sets off a chain reaction they don't understand. In other words, it's the kind of love story that poets write about and the angels clap their hands.
The performances in the film are outstanding. Gugu Mbatha-Raw is a pop star known as Noni, caught up in a whirlwind of sexy performances and being jostled about like a ragdoll, everyone wants a piece of her including her mother Macy Jean played by Minnie Driver ("About a Boy"). Living through her daughter, Jean will stop at nothing to make sure her daughter gets the stardom she deserves, but the question is what 'she' is she referring to.
Nate Parker stars as Kaz, a solid young man, with a strong sense of justice. Following in his father's footsteps, Captain Nicol with the LAPD, Kaz has plans to one day go into politics where he believes he can make a real difference…being in love is the farthest thing from his mind. And that suits his father, played by Danny Glover, just fine.

What first strikes you is the honesty of the film. We see different sides of the music industry; the ugliness, the hard work, hangers-on, and the people living off the blood, sweat and tears of the artist. And it's no different for an ambitious young police officer who has his eye on a political career as he's faced with unwanted advice, and unbelievable pressure from the political standpoint. Two young lovers being pulled in different directions, away from each other. But love conquers all baby!
Writer/director, Gina Prince-Bythewood, in a recent interview with The Hollywood Reporter (THR) discussed her challenge of getting financing for the film.

"It was maddening. The fact that it was two people of color in the leads, it was unfortunate to hear: 'We don't know how to sell this.' Being a black woman, you never get used to it."
Hollywood is funny. Somewhere along the line the 'movers and shakers' decided Black people in love won't draw an audience unless it's a gangster film laced with drugs or a hot, sweaty ghetto love that ends in disaster…you get the picture. But good old fashion love, is really not seen as part of the Black culture. What they are really saying is mainstream America is not interested, and Blacks generally don't support that kind of film.
Thank goodness for Prince-Bythewood. When asked by THR about the obstacles she faced as a Black woman in Hollywood she replied, "I could work all the time if I wanted, but I want to do my own stuff. So what's discriminated against is what I focus on: people of color, and specifically women. People aren't trying to make those films."
Once you see "Beyond the Lights" you will be glad she made this film. The film has the flash, the glitz and glamour of the music industry, coupled with the danger and power of what it's like to be an officer with LAPD.
The music is on the mark, and in striking contrast we're serenaded with Nina Simone's "Blackbird" throughout the film. Sending a message to Black women who dare to take flight even though the world says the odds are against them.
"Beyond the Lights" is a love story about two young people who dare to take a chance on real love. I guarantee you will want to see this film again and again.
In theaters now.