Metro construction projects to yield thousands of jobs
Purple line extenstion next on deck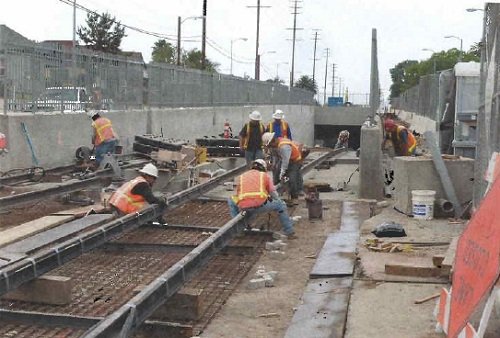 Thanks to a project labor agreement (PLA) the Metropolitan Transit Authority has in place, an estimated 25,000 direct, indirect and induced jobs will be created during the life of transit construction happening between 2014 and 2023 in Los Angeles County.
In addition to the PLA, Metro adopted a Construction Careers Policy to ensure that individuals meeting selected criteria get an opportunity to work on certain related local (non-federally) funded and federally funded construction projects with a construction value greater than $2.5 million.
The PLA covers the Crenshaw LAX light rail line as well as the extension of the purple line train from Wilshire Boulevard and Western Avenue to Wilshire and La Cienega Boulevard. This latter project is a $2.8 billion contract that includes goals of hiring 40 percent of its workers from economically disadvantaged zip codes from around the nation.
Additionally, 10 percent of that 40 percent must also meet at least two more goals such as being a veteran of the Iraq or Afghanistan wars, homeless, an emancipated foster youth or an ex-felon.
Finally, a third goal requires that 20 percent of those hired must be apprentices.
To get more information on the PLA, visit the web site www.metro.net/pla.