L.A. County Sheriff candidates
Are any capable of meeting the needs of the Black community?
By Carol Ozemhoya OW Contributing Writer | 5/30/2014, midnight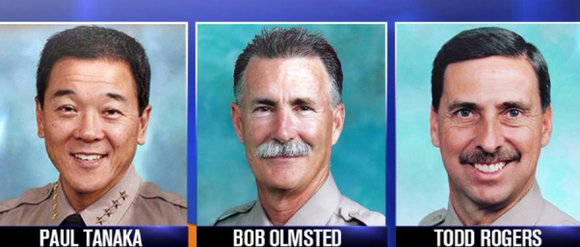 There'll be a new sheriff in town come June 3. Former Sheriff Lee Baca stepped down in January amid a firestorm of controversy, and there are now seven candidates vying for his coveted spot. But not one of them is African American.
Only four people have held the L.A. County Sheriff position in the last 80 years. It's an elected position, but there is no limit on how many terms one person can hold. And it's rare in politics for an incumbent to be unseated.
There is no doubt that a change of guard is due. And the new leader's job will be a challenging one, because he will be charged with restoring public trust and leading the agency into the future. A number of scandals have plagued the department in the past, including hiring practices that favored non-minorities, unfair arrest and jailhouse policies as well as obstruction of justice. In fact, 18 officers were recently indicted by federal law enforcement officials with charges that included jailhouse abuse and threatening an FBI agent, among other things.
There have also been allegations of White supremacists working within the force and of female officers being pressured for sexual favors.
In addition, the department's misconduct has cost taxpayers dearly—$40 million was paid out last year alone in settlements due to lawsuits filed against the department. One African American man was awarded more than half a million dollars after suing the department for beatings he says he took as a result of not allowing deputies to randomly search apartments that he managed.
And just last year, the U.S. Department of Justice released findings about the L.A. County Sheriff's office that painted a picture of an agency that has practiced discrimination and racial profiling, specifically against African Americans.
Another study released last year, found that the Department used K-9 (or dog) units disproportionately when handling arrests of people of color. According to a study by the Police Assessment Resource Center (PARC), during the first six months of 2013, every person bitten by a K-9 during an arrest procedure was Black or Hispanic.
Another sore spot is the disproportionate percentage of Black inmates housed in L.A. County jails, which are run by the sheriff's department. There is also an ongoing case surrounding several L.A. County Sheriff Department employees who were charged with conspiracy and obstruction of justice. In this case, the FBI had placed an informant in the jail system to report on civil rights violations, and when sheriff department deputies discovered him, members of the department launched an elaborate scheme to keep federal investigators from finding him.
On March 29, 2004, Our Weekly publisher Natalie Cole interviewed former Supervisor Yvonne B. Burke regarding a complaint that several African American deputy sheriffs felt existed within the Department. They felt that advancement opportunities were minimal because many were encouraged by supervisors to apply for community relations jobs. Once in these positions, they realized they were somewhat "dead-end" jobs.
Several African American sheriff deputies were interviewed recently and they all said the issue still exists today. One deputy, who has been on the department nine years, said he worked for African American community relations officers when he was in high school and they are still in those positions today. He was also encouraged by his superiors to apply for community relations, but he refused.