Maya Angelou succumbs
She was 86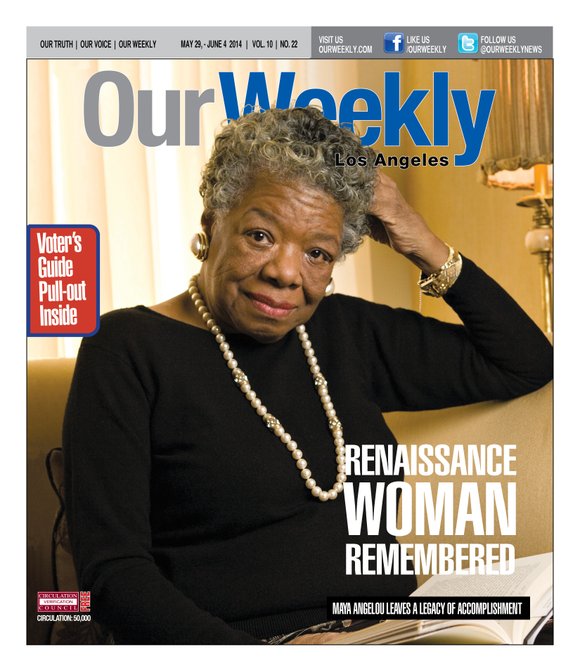 Although she was primarily noted in contemporary times for her poetry, novels and acting, Maya Angelou had a celebrated background in the arts that began when it was difficult for an African American woman to truly count on making a living as a creative artist.
Born Marguerite Ann Johnson; April 4, 1928 in St. Louis, Mo., and raised there and in the segregated southern town of Stamps, Ark., Angelou earned a scholarship to study dance and drama at San Francisco's Labor School at age 14. But she dropped out, pulled away by the lure of life.
At 16, she became the Bay Area's first female streetcar driver and then returned to school to finish her final year of high school. A few weeks after graduating, she gave birth to her son Guy and worked as a waitress and cook to support the two of them.
But, her love of the creative arts would not be repressed, and a few years later (1954 and 1955) Angelou found herself touring Europe with a production of the opera "Porgy and Bess."
Her skills, bolstered by modern dance training with Martha Graham, enabled her to dance with the Alvin Ailey Dance Company on television variety shows. That was followed in 1957 with the release of her first album "Calypso Lady" ("Miss Calypso.")
A move to New York in 1958 allowed her to join the Harlem Writers Guild and get involved in the Off-Broadway production "The Blacks" written by French dramatist Jean Genet.
Angelou played the queen in this exploration of racism that came to the stage in New York in 1961; it was the longest-running Off-Broadway non-musical of the decade. It was Genet's second play to be staged in New York. The production paired Angelou with such future notables as James Earl Jones as Deodatus; Roscoe Lee Browne as Archibald; Louis Gossett Jr., as Edgar; Cicely Tyson as Stephanie; Godfrey Cambridge as Diouf; and Charles Gordone as the burglar.

In 1960, Angelou moved to Cairo, Egypt, where she served as editor of the English language weekly the Arab Observer.
From there she moved to Ghana where she taught at the University of Ghana's School of Music and Drama. She also worked as feature editor for the African Review and wrote for the Ghanaian Times.
In Africa, where she studied and mastered Arabic, French, Italian, Spanish, and the West African language Fanti, Angelou met with Malcolm X and returned to the United States to help him build his new Organization of African American Unity in 1964. Shortly afterwards, he was assassinated, and the organization dissolved.
Dr. Martin Luther King Jr. then asked her to serve as the northern coordinator for the Southern Christian Leadership Conference. But that association too, would be ended by an assassin's bullet, ironically on her birthday in 1968.
Devastated, the six-foot-tall activist began work with the guidance of her friend, novelist James Baldwin, on the biographical book that would gain her international acclaim after its 1970 publication-"I Know Why the Caged Bird Sings."