The importance of voting
It's not just your right—it's your duty
By Carol Ozemhoya OW Contributor | 5/29/2014, midnight
American history is full of battles and waged wars over the rights of individuals and even people of certain gender and ethnicities. The Black vote was (and still is) hard fought for, and there was a time in our not so distant past where women were not allowed to vote either.
Yet millions of people don't take it seriously. They have "better things to do" than be a part of deciding who makes the laws, who enforces them and who is responsible for protecting more of our rights as citizens of the United States, our individual states, counties and cities. We have better things to do than respect the memories of the men, women and even children who have died in the pursuit of securing our right to vote.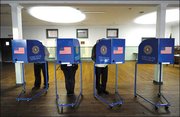 Los Angeles County is possibly the biggest example of the importance of the vote because of its sheer number of citizens and the fact that it represents a huge melting pot of people of color and gender. Los Angeles is one of the largest counties in the country, encompassing more than 4,000 square miles and holding the largest population in any one county in the U.S. It is home to more than 10 million people and 4.3 million registered voters. A whopping 27 percent of California's residents live in L.A. County. And within this massive county, there are 88 separate cities, each of which also has its own elections for council people, law enforcement and more.
If L.A. County were a nation, it would represent the 19th largest economy in the world.
That's powerful.
And in less than a week (June 3), the citizens of L.A. County—that's you in South L.A., in Inglewood and Burbank, in Pasadena and Long Beach, in Compton and Santa Monica—will have the opportunity to cast ballots to choose leaders. It's your responsibility to select a variety of local leaders, including possibly the most important decision of this election—the L.A. County Sheriff.
Marred with corruption, scandal and an "ol' boy network" that has continually denied people of color their rights, the vote to choose a new sheriff will impact how this county moves forward with its beleaguered law enforcement and protection of all citizens.
Paul Tanaka, Todd Rogers, James Hellmold, Robert Olmsted, Patrick Gomez, James McDonell and Lou Vince will face off. Refer to the voter's guide for information on each candidate.
L.A. County Supervisors
Superseding all elections is the opportunity to choose new members of the L.A. County Board of Supervisors. This powerful body has five elected members, and two of the seats are up for grabs on June 3, thanks to term limit. These are highly coveted positions in the county because these elected officials serve as the executive and legislative head of the largest and most complex county government in the United States, making decisions on law enforcement, healthcare, taxes and land development. Most importantly, the supervisors control a budget of $25 billion. It's a sweet spot … each supervisor has a salary of just under $200,000 a year, and a $3 million budget for staff, office expenses, transportation and their own pet projects.