Student Athlete of the Week: Crenshaw High School's Clavacia Smith
nThe senior is weighing his options between Concordia University in Nebraska and Clark Atlanta University.
By Jason Lewis OW Contributor | 5/22/2014, midnight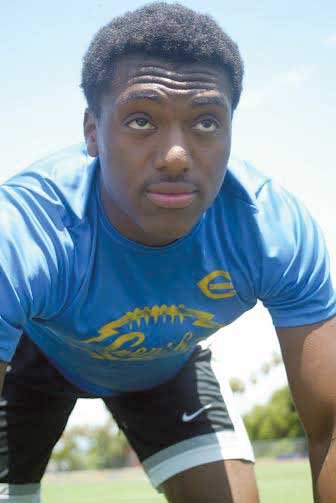 Crenshaw High School's Clavacia Smith doesn't like idle time, which has led him to a 3.5 grade point average while playing offensive line on the football team, even though he is only 6'2", 205 pounds.

Smith is a big kid, but certainly undersized to play left tackle and center. But his drive and his love for competition made him a key member of two Crenshaw teams that made it to the City Section championship game, winning it this past season.

Smith was a late bloomer when it comes to football, as he did not start playing until he was 14-years-old. His only season of youth football was with the Leimert Park Chargers in the Snoop Youth Football League. His older cousin is Seattle Seahawks defensive lineman Brandon Mebane, who also played football at Crenshaw, so picking up the game quickly was not an issue for Smith. He immediately became a huge fan of the sport.
"I like the adrenaline that comes with it," Smith said. "It's just exciting to get out there on the field and put my hand in the dirt in a four-point stance and try to get off as fast as I can to put on a quick move."
When Smith showed up at Crenshaw as a freshman he did not realize how athletic the players at this football powerhouse would be.
"I thought I'd be the fastest kid here," Smith said. "I knew that they would be a little bit bigger, but to my surprise they were a lot bigger than I even thought."

It did not help that Smith was only 130 pounds, which meant that he was not going to see the field much on the junior varsity team. But the lack of playing time lit his fire, because hanging out doing a "whole lot of nothing" on the sideline was not something that he wanted to do.
"That made me work harder," Smith said. "In the offseason I started running track to get faster. I wanted to have endurance, so the 1,600 was my event."
Smith also lived in the weight room, as he was trying to find ways to get bigger.
"I asked my coach how I could I get bigger, and he told me that I would have to eat several times a day," Smith said. "It's not how big the meal is, but it's that you're eating consistently. Don't just eat breakfast, lunch, and dinner, but eat throughout the day. I would eat peanut butter and jelly sandwiches that my grandmother would make me, and then I would have weight training everyday. And we would run everyday."
Smith put on weight in a hurry, and his athletic abilities improved so much that he was moved up to the varsity team as a sophomore. But still he was on the bench as a back up defensive end. The field was calling him.

"When I was in ninth grade and I wasn't really on the field, and then again my sophomore year at defensive end, I just remember not liking sitting off the field," Smith said. "I wanted to get out there, so I thought, what else could I play?"