Student Athlete of the Week: Crenshaw High School's Clavacia Smith
nThe senior is weighing his options between Concordia University in Nebraska and Clark Atlanta University.
By Jason Lewis OW Contributor | 5/22/2014, midnight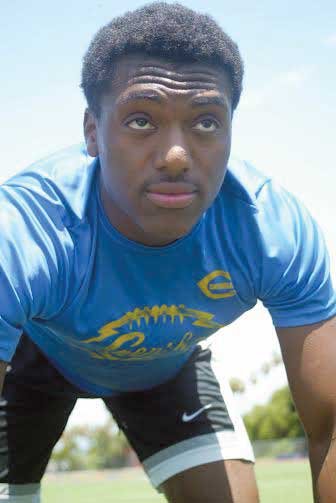 Crenshaw High School's Clavacia Smith doesn't like idle time, which has led him to a 3.5 grade point average while playing offensive line on the football team, even though he is only 6'2", 205 pounds.

Smith is a big kid, but certainly undersized to play left tackle and center. But his drive and his love for competition made him a key member of two Crenshaw teams that made it to the City Section championship game, winning it this past season.

Smith was a late bloomer when it comes to football, as he did not start playing until he was 14-years-old. His only season of youth football was with the Leimert Park Chargers in the Snoop Youth Football League. His older cousin is Seattle Seahawks defensive lineman Brandon Mebane, who also played football at Crenshaw, so picking up the game quickly was not an issue for Smith. He immediately became a huge fan of the sport.
"I like the adrenaline that comes with it," Smith said. "It's just exciting to get out there on the field and put my hand in the dirt in a four-point stance and try to get off as fast as I can to put on a quick move."
When Smith showed up at Crenshaw as a freshman he did not realize how athletic the players at this football powerhouse would be.
"I thought I'd be the fastest kid here," Smith said. "I knew that they would be a little bit bigger, but to my surprise they were a lot bigger than I even thought."

It did not help that Smith was only 130 pounds, which meant that he was not going to see the field much on the junior varsity team. But the lack of playing time lit his fire, because hanging out doing a "whole lot of nothing" on the sideline was not something that he wanted to do.
"That made me work harder," Smith said. "In the offseason I started running track to get faster. I wanted to have endurance, so the 1,600 was my event."
Smith also lived in the weight room, as he was trying to find ways to get bigger.
"I asked my coach how I could I get bigger, and he told me that I would have to eat several times a day," Smith said. "It's not how big the meal is, but it's that you're eating consistently. Don't just eat breakfast, lunch, and dinner, but eat throughout the day. I would eat peanut butter and jelly sandwiches that my grandmother would make me, and then I would have weight training everyday. And we would run everyday."
Smith put on weight in a hurry, and his athletic abilities improved so much that he was moved up to the varsity team as a sophomore. But still he was on the bench as a back up defensive end. The field was calling him.

"When I was in ninth grade and I wasn't really on the field, and then again my sophomore year at defensive end, I just remember not liking sitting off the field," Smith said. "I wanted to get out there, so I thought, what else could I play?"
The answer was offensive line. Even though he is not a natural offensive lineman—he really wanted to play defensive end—to get in the game he played left tackle as a junior and center as a senior. His contributions really helped Crenshaw regain their place as one of the powers in the City Section. They made it to the title game during his first full year as a starter, but they came up on the losing end to Narbonne.

"I was just thinking, how could this happen? I knew that I had to get better during the off season," Smith said.
During the offseason, Smith and his teammates continued to work hard, because the goal at Crenshaw is always to compete for the championship. Most of the players on the team had been together since their freshman season, so they had really become a family who had the goal of getting to the top. During Smith's senior season, it finally happened, as they had a rematch against Narbonne for the title. This time Crenshaw came out on top.
"I remember seeing everybody run onto the field, and there was a lot of excitement," Smith said. "We were all celebrating, and it was a really good feeling."

Capping off his senior season with a title was very meaningful for Smith, but because he was a team player, by playing out of position, he did not have college scholarship offers. That changed after the season ended, as he attended the California Showcase, where he was spotted by a scout from Concordia University in Nebraska, who wants him to play either defensive end or tight end. He also sent his highlight tapes to Clark Atlanta University, and the coaches were impressed with his athletic abilities. It also helped with both schools that he carries a 3.5 grade point average, meaning that getting him into school will not be a problem.
Smith attributes his academic work as one of the reasons on why he has excelled. He asks questions, he figures problems out, and he is able to think quickly.
"We can go through a play 100,000 times in practice, but in a game, it's not going to be the same way that we did it in practice," Smith said. "We can watch film all day long, but it won't be the same because our opponent is going to play it differently. Our practice squad isn't going to be the same as their starting squad. We have to be smart enough to know how to adapt so that we can come out with a win at the end."
Just like on the football field, Smith does not wait around to get to his school work completed, which he actually does first.

"I always get my work done, and I don't procrastinate," Smith said. "I feel that if I put my work off, anything could happen. Something could come up, so I like to get my work done as soon as I can so that I can ask questions and seek help, rather than waiting until the last minute."
During his breaks at school, Smith goes to the weight room where it is quiet so that he can get his work done. English is Smith's favorite subject, as he likes to write and perform public speaking. He has published several poems, and he plans to major in broadcast journalism in college.

"I want to have my face out there," Smith said. "Something to give my little sisters and brothers to look up to and see me do, to give them inspiration to go to college."
Smith has not selected which college he will attend yet, as his selection will be heavily based on finances. Both schools have offered him scholarships, but at the moment neither will pay for full tuition. He is waiting to hear back on other financial aide packages.

After college Smith would like to work in either entertainment or sports media. He loves the creativity of music and art, and he is thrilled by the competition of sports.

Smith also credits the church with shaping him into a great young man. He attends Greater New Vision Baptist Church with his grandmother and siblings.
"I've always gotten support from the people at my church," Smith said. "As far as prayer before games, that was something that we always expressed with our head coach, Robert Garrett. Before and after games, staying in good health, prayer really stayed with me."
Smith is shaping up to be an outstanding member of our community, and he is somebody who will make the most of the opportunities that he has earned.