Radical novelist Sam Greenlee dies at 83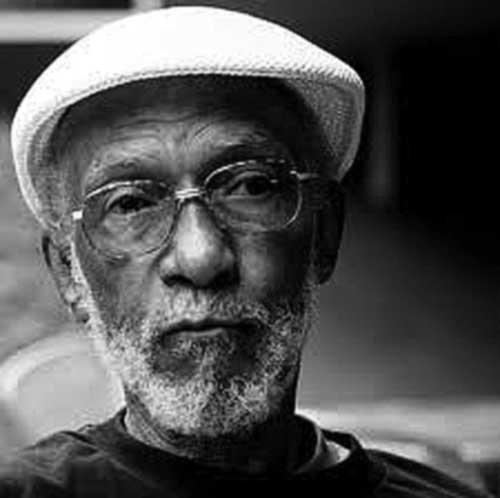 Novelist, poet, and activist Sam Greenlee died in his native Chicago this past May 19, at the age of 83. The cause of death was not immediately revealed, but unofficial sources said that he had been in ill health over the past few years. He is best known for his political satire "The Spook Who Sat by the Door" (1969), in which a Black CIA agent uses his clandestine training to organize a guerrilla insurgency of gang members in Chicago's South Side.
Born in 1930, Samuel Elder Greenlee, Jr. earned a political science degree from the University of Wisconsin (while pledging Kappa Alpha Psi) before joining the U.S. Army, then becoming one of the first African American foreign service officers in the United States Information Agency. His postings included duty in Iraq during that country's Ba'athist Revolution in 1958, (which set the stage for the repressive regime of despot Saddam Hussein) for which he was later awarded a Meritorious Service Medal for bravery.
Leaving the Foreign Service in 1965 to focus on a writing career, he penned "The Spook Who Sat by the Door" during a four-month stay in Greece. Rejected by scores of mainstream publishers, it finally was printed in 1969 by the independent British firm of Allison & Busby, and went on sell more than one million copies and was translated into six languages.

The plot involves a U.S. Senator eager to win "Negro" votes to secure his re-election. In the process, he forces the CIA to recruit Black employees as part of the affirmative action era launched in the wake of President John F. Kennedy's Executive Order 10925. One of those hired is a seemingly accommodating "colored" man, the aptly named Dan Freeman, who soaks up the Agency techniques before reverting to his true, Black Nationalist persona. Returning to his native Chicago to work in social services, he galvanizes the inner-city gangs to revolt against the National Guard, the police, and all other forms of authority.
The title itself is an exercise in duality. It is both an ethnic slur against people of color and a slang term form a spy. In addition, it refers to the then common practice of placing a minority employee near the entrance to a company to show that that firm complied with the era's integration policies. During the course of his career with the CIA, Freeman is given no greater responsibility then the operation of a Xerox machine, and is the definitive "spook" at the front door.
A cult classic whose sales were largely achieved through word of mouth, the novel was subsequently turned into a motion picture during the landmark "blaxploitation" era, of films marketed for a predominately Black audience. Years before the advent of Kickstarter and other nontraditional methods of fundraising, screenwriter Greenlee and director/producer Ivan Dixon (best known for his tenure on Hogan's Heroes) depended on financing from sympathetic individuals within the African American community.
Inhibited by Mayor Richard J. Daley's power base from filming in the novel's Chicago locale, the production moved to nearby Gary, Ind. and the hospitality of its first African American mayor Richard G. Hatcher to resume filming.
After a triumphant first few weeks of screenings during which it enjoyed healthy box office response among inner-city film goers, "The Spook Who Sat by the Door" was mysteriously removed from distribution, and spent decades of obscurity in which the only available video copies were bootlegs.
Asantewa Olatunji, director of programming with the Pan African Film Festival, recalls first hearing about the film in the 1970's.
"It was quite an underground thing—you couldn't find it anywhere," she remembers. It was the better part of a decade before she had the chance to see what had become an urban legend. The copy she viewed, a VHS bootleg obtained by a friend, was very moving for African Americans who were considered to be "making it" in the White society of that era.
"For me, it was just eye opening—it was the quintessential Black film," she says. "It (the storyline) was a very valid way of responding to the way we were living."
In 2004 actor Tim Reid secured a pristine negative for transcription to DVD, making it available for the masses.
In 2012 this film, which was considered not especially well-made technically, and received lackluster reviews during its release, was named to the National Film Registry of the Library of Congress, a plateau reserved for "culturally, historically, or aesthetically significant films."
In perhaps the ultimate accolade, Greenlee had a chance meeting with Notre Dame star athlete and one of the first FBI agents of color, Aubrey Lewis, during which the pioneering Black "G-Man" revealed that "The Spook Who Sat by the Door" was required reading at the FBI Academy in Quantico, Va.
Subsequent writings did not enjoy the success of this first effort, although Baghdad Blues (1976), based on his experiences during the 1958 Iraqi coup d'état, has enjoyed a resurgence of sorts after the over throw of Saddam Hussein in 2003.
An activist who claimed to have participated in his first "sit-in" at the tender age of 15, Greenlee continued to be outspoken well into his advanced years. After a self-imposed exile in Africa and Spain, he returned to his native Chicago where he spent his remaining years teaching screenwriting at Columbia College, hosted a radio talk show, and held regular poetry recitals.