'Hip Hop Family Tree' intertwines two uniquely American art forms
By Ed Piskor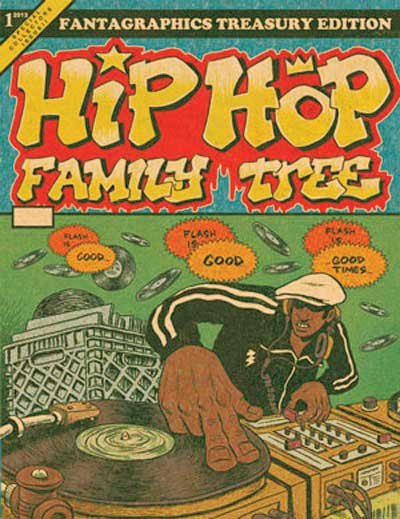 Although Rap music is rightly considered a Black art form, like any genre its gestation was aided and abetted by considerable cross fertilization from a variety of cultures. And thus, we have appearances by graffiti artists turned high society media darlings Keith Haring and Jean-Michel Basquiat, who introduced fellow artist and Hip Hop pioneer Fab Five Freddy to a "hoity toity," upscale crowd, including singer Deborah Harry of the soon-to-blow-up new wave band Blondie. Blondie in turn referenced Freddy in the lyrics to their hit song "Rapture," and gave him a cameo appearance in their music video for the song. Years later, Fab Five Freddy was able to parlay these referrals into a full-time gig as the host of the ground breaking series "Yo! MTV Raps," which opened the doors for other Rap artists to reach a wider audience.
Projected to be a five part series, with the second volume due in August, "Hip Hop Family Tree" thus far glosses over the contributions of Jamaican immigrants, especially the "toast masters" and purveyors of the Caribbean "calypso" culture, and what came to be called the "dancehall" style (one of the standard bearers of this tradition, DJ Kool Herc, who brought his "breakbeat" style from the islands to the Bronx when he was 12, is covered). Forthcoming volumes will presumably include the contributions of West Coast artists like N.W.A., Snoop Dogg, Too Short, and others.
Even if you are not a fan of Hip Hop or Rap per se, one cannot deny its pervasive influence on the world at large. If nothing else, this first volume covering the years 1975 through 1981, demonstrates the nonstop merging of style and culture that is part and particle of the American experience.