New retail center, AnyWind Power may bring more jobs to Palmdale
BYD open in Lancaster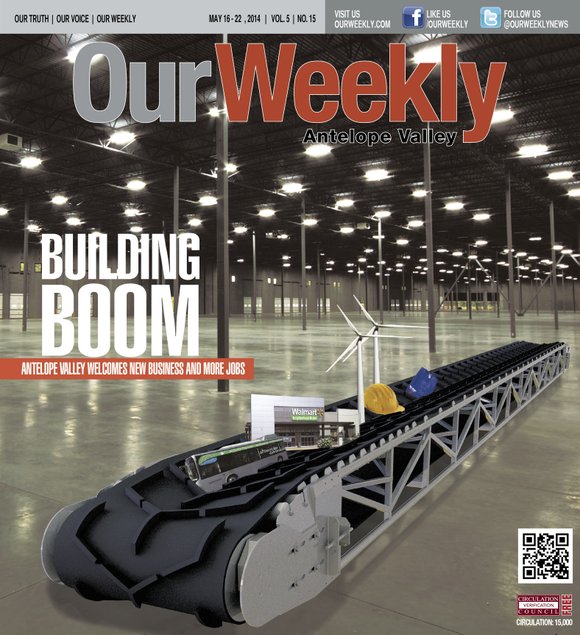 The Rancho Vista Specific Plan in Palmdale got another boost this month as construction began on the Rancho Vista Town Center, a long-anticipated retail development at the intersection of Rancho Vista Boulevard and Town Center Drive. Adding to the economic revitalization of Palmdale was the announcement that a "memorandum of understanding" (MOU) has been signed to help lure AnyWind Power Electric Inc. to town to manufacture wind turbine systems.
In nearby Lancaster, BYD (Build Your Dreams) unveiled this month its first in a series of all-electric, long-range busses.
The three announcements could mean more job opportunities in the Antelope Valley, a region still stinging from the six-year economic downturn, falling home prices and a reduction of manufacturing outlets. The new retail and business developments may send a signal throughout Los Angeles County that job prospects are on the rebound. Walmart Neighborhood Market as well as a nationally-known coffeehouse will serve as the primary anchors of the Rancho Vista Town Center which is part of a development plan approved almost three decades ago. About 65 new jobs will be available at the grocery store.
"We are delighted to see construction underway for this long-planned retail center," said Palmdale Mayor James C. Ledford. "When Gregg Anderson created the vision for the Rancho Vista Specific Plan more than 20 years ago, he saw a high quality, walkable community with neighborhood amenities so residents could live, shop and recreate there."
The development is in the westside portion of Palmdale, an area that is undergoing extensive refurbishment and construction; the supermarket is a long-awaited addition for residents who over the past decade have witnessed the slow-growth of a "food desert" where a full-service market with fresh produce and meats was not present. Though Walmart Neighborhood Market will span about 40,000 square feet, it will still serve as a grocery store comparable in size to traditional outlets. It will feature a variety of products and services, including organic produce, meats and dairy products, frozen foods, dry goods, cleaning products, pet supplies, a pharmacy and health and beauty products.
The Walmart Neighborhood Market, already located in Simi Valley, Huntington Beach, Rancho Cucamonga and Rancho Santa Margarita, will be the first such outlet in the Antelope Valley. Other tenants currently being pursued for the development include a financial institution, a sit-down family restaurant and a number of retail establishments. The ultimate goal of the project is to provide neighborhood convenience to Rancho Vista Boulevard.
"As the Rancho Vista community continues to grow along with surrounding neighborhoods in West Palmdale, so too does the need for neighborhood retail increase," said Greg Quan, development manager of builder R.Y. Properties. "We are targeting a mix of high-quality retailers to offer neighborhood convenience to the area. We've worked hard to reach out to the neighborhood to ensure that the services offered meet their needs."
The city of Palmdale and AnyWind Power and Electric last month took a step closer to locating the fledgling corporation within Palmdale. AnyWind is touted as a "next generation" total wind power system provider that offers solutions to meet both energy and environmental needs. The company wants to establish local headquarters at 450 W. Palmdale Blvd., and is looking to purchase the former Senior Systems Technology building, a 130,000-square-foot facility at 600 Technology Drive, for manufacturing purposes.