The Accelerated School sends 93 percent of their students to college
Low-income students can achieve at a higher level
By Jason Lewis OW Contributor | 5/8/2014, midnight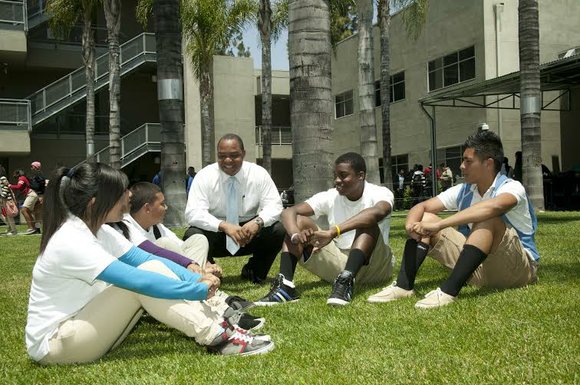 The Accelerated Schools' principal has a simple message for her students:
"It's not if you're going to go to college, it's where you're going to go to college," Katherine Aguirre said. "It's not an option. The options have been limited. Every student takes college prep courses. Every student is expected to get all the way through calculus. If they have difficulty, we'll provide them with the support."
That may sound like a lot of pressure, but the mostly Black and Latino students are falling in line. Founder and CEO of The Accelerated School, Johnathan Williams, has created an environment where students are pushed to succeed.
"It's a healthy tension," Williams said. "It's the college expectation for everybody."
Williams, a UCLA graduate, has set the bar pretty high for his students.
"I expect them to do something bigger," Williams said. "They experienced me, so their platform starts where mine ends. I make it very clear that I expect great things from them."
That may sound like a difficult goal to reach, taking into account that the school sits on the corner of Martin Luther King Blvd. and Main St., because public schools in that area traditionally struggle due to overcrowding and lack of funding. When students struggle, it becomes a reflection on the community at large, and people look at Black and Latino children as being less smart than other children, as it if were an inherent issue. The Accelerated School is proving that is not the case.
"Our kids are neighborhood kids," Aguirre said. "These are not students that we ship in from anywhere. We are not hand picking them. We are selecting them by random lottery. These are our kids. Some of them live across the street, they live next door. It's an absolute mix of what our neighborhood has."
Aguirre does not believe in the stereotype that children from lower income areas are not as smart, or cannot succeed on the level of children from higher income areas.
"We're more capable," Aguirre said. "Because we've gone through adversity and we've gained strengths from that area. We've gone through obstacles that others have not. That gives you practical application, that gives you a drive. We make sure that our students know that they are bigger, stronger, and faster. Because they have to compete with kids coming out of affluent areas."
That belief in the local children has been a driving force in producing some of the brightest students from any area, high or low income.

Three of The Accelerated School's brightest students are Donna Medel, Alejandra Castillo, and Jonnathan Garcia. Medel is heading to Columbia University, where she will study biomedical engineering. Castillo will be off to Hobart and William Smith College, where she will study journalism, and Garcia will attend to the University of Wisconsin, Madison to study mechanical engineering.

These three students have succeeded at such a high level that they have been awarded some of the most prestigious scholarships in the nation. Medel's education is being paid for with the Millennium Gates scholarship. More than 52,000 students apply each year, but only 1,000 receive the award. The scholarship will pay for her undergraduate degree, masters degree, and Ph.D.