Farewell to the King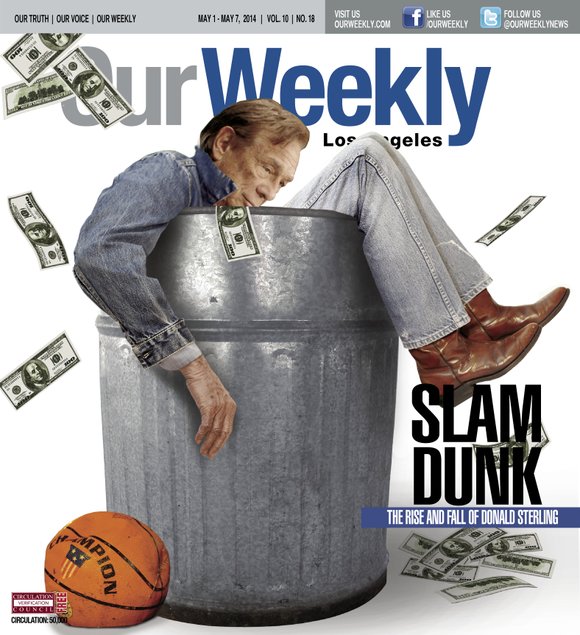 "… In conduct designed to target, befriend, seduce, and then entice, cajole, borrow from, cheat, and/or receive as gifts transfers of wealth from wealthy older men whom she targets for such purpose."
-description of "V. Stiviano" from the lawsuit filed by Rochelle Sterling.

In a large city like Los Angeles is that a scandal is hot news only for a brief period, before some other disgraceful tidbit of slander unhinges it from the psyche of the gossip hungry populace. A week and a half ago, the town was abuzz with allegations of sex abuse by against X-Men movie director Bryan Singer and three other Hollywood bigwigs, in part of a twisted version of the casting couch syndrome wherein they targeted under aged boys eager for entry into show business.
Shortly afterwards, Nevada rancher Cliven Bundy laced his frustration with a grazing rights dispute with the federal government with inflammatory suggestions that Blacks fared better under slavery then in their present state as recipients of government aide.
Both stories are now supplanted by a bombshell leaked to one of the major rumormongers, TMZ, by a supposed mistress to real estate magnate and L.A. Clippers owner Donald Sterling. This juicy morsel is a recording, covertly or overtly taped by his former inamorata, one V. (for Vivian) Stiviano, herself of mixed parentage, in which he admonishes her for keeping company with and being photographed with high-profile Black men, including Magic Johnson and Matt Kemp. In a nutshell, Sterling expressed his displeasure in having her socialize with Black folks or bringing them to Clipper games, the audio went publicly, and the sports world got to see a billionaire publically disciplined.
The woman who brought him down is presently the subject of a law suit filed by Sterling's wife, Rochelle, seeking the return of items Stiviano is said to have embezzled from her 80-year-old benefactor.
These include two Bentleys, a Ferrari, a Range Rover, a $1.8 million duplex, and nearly a quarter million dollars in living expenses. She and the Ferrari made an appearance in the media when they were cited for a DUI in 2012. In the car with her was actor Brandon Mychal Smith, 23, who has appeared in Disney TV sitcoms and the upcoming James Brown biopic Get on Up, as Rock n' Roll icon Little Richard.
Stiviano, born Maria Vanessa Perez, is alternately known as Monica Gallegos, Maria Valdez, and has at least two other AKAs.
A hot, coquettish femme fatale, possibly two-timing her octogenarian sugar daddy with a series of young, virile Black men, while gouging him for expensive cars, jewelry, and real estate, while his wife waits steaming mad off in the background—the story has all the makings of a potboiler fit for a town known for its high drama involving the rich and (in)famous. For good or ill, the Chicago-born Sterling's fortunes run parallel with his adopted city of the angels and its sepia shaded citizenry.
Humble Beginnings
Growing up in Boyle Heights, Donald Tokowitz endured a hardscrabble upbringing by becoming senior class president at Roosevelt High, moving on to Cal State LA and Southwestern Law School, and changing his last name to Sterling.