Homeless veterans to get permanent lodging through unique partnership
Lancaster, CalVet will build affordable housing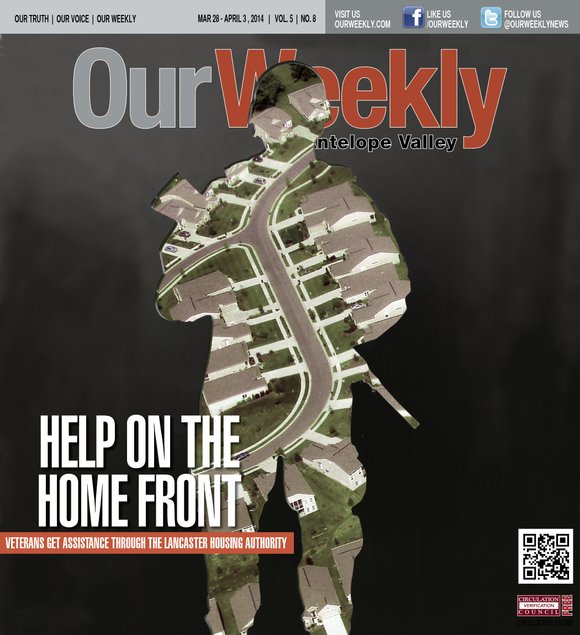 CalVet also provides California veterans with rehabilitative, residential and medical care and services, as well as long-term care to resident veterans. The current homes (in Lancaster, Ventura, West Los Angeles, Barstow, Chula Vista, Fresno, Redding and Yountville) are live-in residential care facilities that offer a comprehensive plan of medical, dental, pharmaceutical, rehabilitation and social services. The homes range in size from 60 residents on a 20-acre site, to more than 1,000 persons on 500 acres. All eight facilities combined are expected to house about 3,000 homeless, honorably discharged veterans aged 55 years and older. The age requirement is waived for disabled and homeless veterans who require long-term care.
CalVet, which in 2009 opened the William J. "Pete" Knight Veterans Home of California in Lancaster, is improving its record of successfully transforming foreclosed properties into the hands of veterans. The housing crash saw most of these homes statewide fall into blighted conditions; now with the new partnership, LHA will construct new homes in some of Lancaster's more mature neighborhoods on a dozen vacant lots that are owned by the LHA.
"CalVet is very excited about this collaboration, wherein the Lancaster Housing Authority will be building homes focused toward our veterans, and we will in turn provide loans up to the appraised value of the homes," said Theresa Gunn, deputy secretary of the CalVet Farm and Home Loan division. "Through this collaboration, we will be able to assist veterans in obtaining the American dream of home ownership." Each home will be made available for purchase through the LHA and will be marketed strictly for veterans. The program will run during fiscal year 2014-2015. Presently, LHA officials have not identified the dozen or so vacant lots which are scheduled for construction.
The NCH in 2008 reported that 40 percent of homeless men are veterans. From this data the study revealed that 47 percent of homeless veterans served in the Vietnam War; some 75 percent of these persons during the past 30 years have experienced alcohol, drug or mental health problems. Further, 89 percent of homeless veterans received an honorable discharge, while 79 percent reside in urban or "central-city" areas. Another survey conducted in 2010 by the National Alliance to End Homelessness found that 45 percent of the African American persons seeking their service three years prior were veterans. The Department of Housing and Urban Development was quoted in the latter study: "When compared to their counterparts nationwide, homeless people are much more likely to be adult males, African Americans, non-elderly, alone, veterans and disabled."
A 2010 study conducted by CalVet on the status of California homeless veterans revealed there are still too many ex-military men and women—and their families—who are without permanent shelter. Most of these veterans require transitional housing, employment training, educational services and, for an increasing amount, addiction services. When the Soviet Union withdrew troops from Afghanistan in 1989, army doctors detected a striking number of soldiers who had become addicted to heroin because the drug was often readily available due to the sheer volume of poppy plantations (the flower used to derive the opiate). Afghan children were able to supply the soldiers with their "fix" for under $4 per day.