Hamilton High School's Oshaela Gray
Student Athlete of the Week
3/27/2014, midnight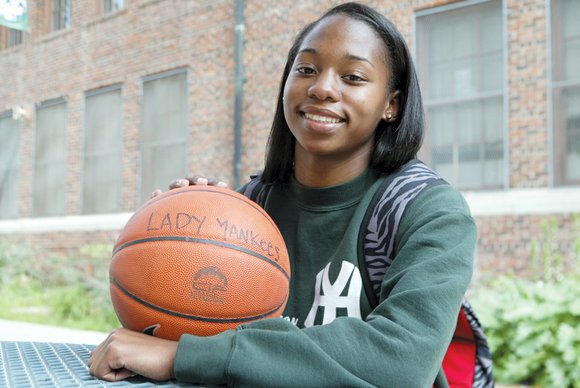 Oshaela Gray is known as "The Roadrunner." That's because she can get by defenders and to the basket with ease. The 5'5" senior point guard is quick, extremely skilled, and she plays with an aggression that opponents cannot stop. She has a similar playing style to Chicago Bulls' point guard Derrick Rose.

Gray likes to be more of a scoring point guard, but she understands that for her team to win, everybody has to be involved. This past season she averaged 14 points and five assists per game as she led Hamilton to the playoffs. As a point guard she has a lot of responsibilities.

"It's a tough position," Gray said. "You have to be a leader on the court, and you have to conduct your team."
Gray has a pretty good outside shot, but she knows to play to her strengths.

"I try my best to get to the basket," Gray said. "That's where I get most of my points from."
Gray has worked with a personal trainer who worked on her speed, so blowing by defenders comes easy to her, and with great dribbling abilities, opponents cannot keep her in front of them. She is also a really good defender, averaging five steals per game.
Being intelligent has come in handy for Gray, and Hamilton's girl's basketball coach Damian Willis is greatly appreciating her knowledge of the game.
"She has a great basketball IQ," Willis said. "She is somebody that I can rely on to make sure if there is something specific that I want on the court, she can make sure it happens."
At times Willis needs Gray to run the offense by passing the ball to get everybody involved, but other times he just needs her to take over the game and score. Because Gray is not a selfish player, Willis worked over the past two seasons to bring out a certain confidence in her.
"When I first met her, she was already talented," Willis said. "I saw the skills, but what I didn't see was the willingness to take over, and to demand the respect that she deserves. As far as her physical game, there are always things to improve on, but there wasn't much that I had to focus on. She had really good fundamental skills. It was getting her to realize that she's a player that's looked up to by the other players, and by the other females on campus. Once she realized that, she really took over."
That aggression has led Hamilton to a turn around. The season before they only won two games, but this past season they made it to the second round of the playoffs.
"We had a very successful season, and the majority of that was due to Oshaela, and what she brought to the team," Willis said.
As a reward for a successful season, Gray could be named First Team All-City, as many of the Western League coaches voted for her.

As a student, Gray has a 3.4 grade point average, which easily qualifies her for the colleges that she is interested in. She is on San Diego State's radar, and she hopes to be offered an athletic scholarship from them. She does have options. She could enroll in the school based on her grades and then walk on to the team. She also has a number of junior college coaches calling her.
Because Gray takes her school work seriously, she has a number of opportunities for college. She wants to major in kinesiology and after college she plans to enter the sports medicine field.

Gray is college ready, both athletically and academically, and she would fit in with any program.
"When you find a player who is really gifted athletically, sometimes you have that problem that they don't go to class, or there is always some problem," Willis said. "But there was never that type of issue with Oshaela."
Gray has a bright future ahead of her, and being a student/athlete is going to take her really far.