Women Helping Women
Ladies leading the charge to improve communities
Carol Ozemhoya | 3/20/2014, midnight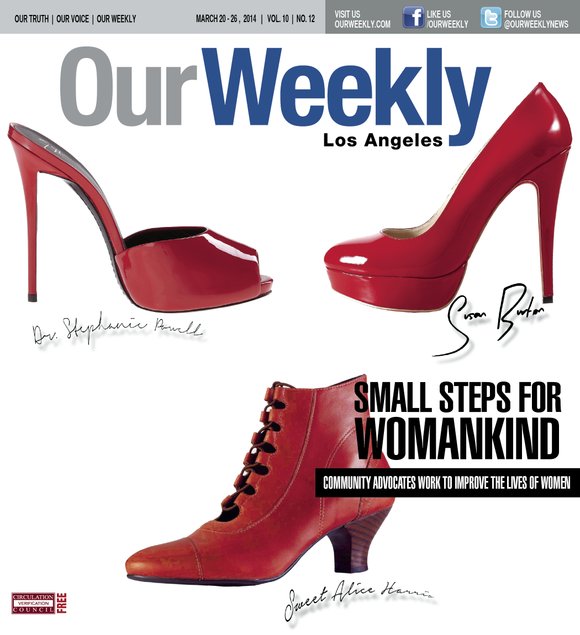 "I had a rough start; that's the reason I am doing what I am doing," she says. "Someone helped me and I am returning the favor. I wanted to learn. I wanted to make a better life. It's all about creating an environment that will make people want to learn and get into a better life."
For information on POW, call (323) 566-7556.
A New Way of Life
Like Harris, Susan Burton was once on the other side of the law. A former California prison inmate, she knows what it is to come out of prison into a world that is basically unwelcoming and unyielding in options for a former inmate to make a living.
Burton's son died when he was just five. The dramatic event was key in driving the young mother to drug addiction and eventual incarceration. When the judge sentenced Burton, he didn't see a young woman struggling with depression and a lack of skills, he saw a criminal. And so her cycle began. She was in and out of prison six times over a course of about 20 years.
The last time she was released in 1997, she remembers a prison guard saying to her something like, "See you back in a little while." Those words stung and may have been the catalyst that sent her on a very different path.
Burton's A New Way of Life provides women parolees the tools that they need to rebuild their lives when they are released from prison. That can include housing, legal aid, job training and other means of support.
Candidates for the organization's services come through word of mouth mostly. "They write me letters asking for help," Burton explains. "I get about 50 letters a month. There's a rumble about what I do in the system. I have been doing it since 1998, so people know about it."
The women Burton helps range in ages from 20 to 62. Candidates have to be someone who is capable of taking care of themselves. "Our services are individualized," Burton explains.
She says that women are overcharged when it comes to drug-related offenses. "She's charged with cocaine possession. Then she's in a situation where if she doesn't give up her dealer, she's going to do time. The first charge should be referred to treatment," Burton declares.
A New Way of Life will work to get an incoming woman a driver's license and make sure that she has a social security card. "We bring them into one of our houses. A lot of times they know each other because they came from the same place. We give them hygiene items, food and make them feel like they are part of our family. The fact that she came is testament that she is already in the process of becoming a productive part of society."
Burton says inmates are attracted to A New Way of Life because they get the impression "we really understand that people make mistakes and sometimes need help getting back on their feet. We recognize the potential in the women that we serve... they understand that we understand their needs. We recognize their potential."