Women Helping Women
Ladies leading the charge to improve communities
Carol Ozemhoya | 3/20/2014, midnight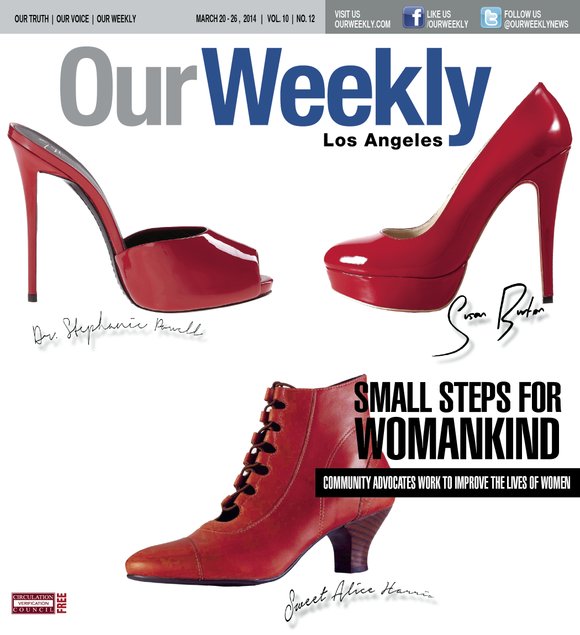 March is Women's History Month, and although most people are certainly aware of amazing women leaders such as First Lady Michelle Obama and media mogul Oprah Winfrey, there are also women right in our local communities that have made it their lives' work to improve the lives of others, especially other women.
They're teachers, pastors, politicians and just ordinary women doing extraordinary work. Their work is changing lives.
The POWer of 'Sweet' Community Service
"Sweet" Alice Harris is no spring chicken. But at 80, she is still the power behind POW—Parents of Watts, a community organization dedicated to uplifting those who have fallen on hard times, or got off to a rough start. One of the main reasons she is so qualified to run POW is that she's been there; done that.
Harris had already been in jail at the tender age of 12, she became a mother at 14 and by 16, she was homeless. Fortunately, a loving family saw the good in her and helped her turn her life around. By the time she left Detroit and moved to Watts in 1958 to care for her ailing mother, Harris had a skill set that enabled her to make a living and care for her children. She was adept at inspiring and encouraging others, and many of those same people became loyal to her. So when the destructive riots of 1965 hit her community, she already had a bunch of volunteers ready and willing to work out of her house to help rebuild the community.
Over time, Harris brought people from other organized groups together and formed the Black and Brown Committee, which eventually became POW in 1979. Today, the grass roots organization offers some 15 programs in eight houses purchased by Harris herself. POW's programs provide things such as family counseling, emergency food and shelter, employment training, tutoring, literacy courses, parenting classes, college and career preparation, and housing aid for those that need it.
In addition, all children in the area get free immunization shots.
Harris admits, that although POW is open to anyone, the bulk of those that come to the organization are made up of young women and kids. The basis on which Harris and her crew work is not groundbreaking. However, they are tried and true methods that are steeped in compassion and an honest desire to improve the lives of others, especially the next generation. For example, sometimes students are motivated by a promise of a reward, such as a toy or special event. The point of everything Harris incorporates is to keep kids clean, in school and on the path for a successful existence. Indeed, the nickname "Sweet" came from the fact that she makes decisions with a compassionate heart.
POW depends on private donations and volunteers to operate. Harris has one simple question to ask people when they approach her about POW: "Do you want to be part of the building crew or the wrecking crew?"
Harris tells Our Weekly that she has dedicated herself and much of her resources to helping others for one main reason—someone once did it for her.