Student Athlete of the Week: View Park High School's Mareshah Farmer
Better known as 'Fresh,' she has led her team to back-to-back city titles while carrying a 3.8 grade point average.
3/20/2014, midnight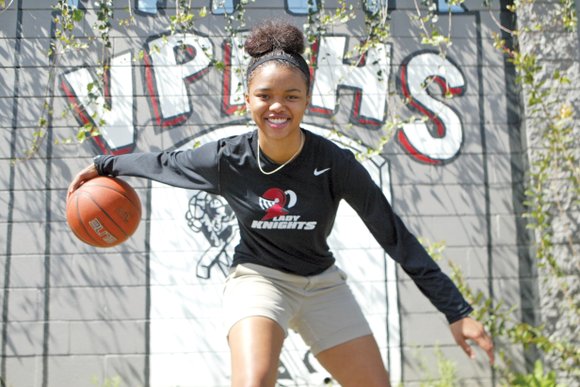 You know that you are big time when people just know you by one name…and it is not even your real name. That is how View Park High School senior guard Mareshah Farmer has it. When she shows up on the court, she is known simply as "Fresh," and everybody knows that Fresh is going to put the ball in the hoop over and over and over. Players who average 29.9 points per game, which leads the state, tend to do that.

Farmer picked up the nickname when she was at Crenshaw High School. She was the only freshman to make the varsity team, so her teammates started calling her Fresh. She transferred to View Park as a sophomore, so she had to sit out that season. But since she has been able to play, she has been named to the All-City and All-State teams as she has led View Park to back-to-back City Section championships.

With accolades like that, folks are going to know you by one name.
"Most people call me Fresh," Farmer said. "Teachers, people that do not know me who talk to me at the games. Most people don't know my real name unless they have really known me for years. Some people actually think that my name is Fresh."
Surprisingly, Farmer did not play organized basketball until she reached high school, while most of the top players picked up the game at a very young age.
"When I was young, I was really girlie," Farmer said. "Basketball was not something that I wanted to do. But I have five brothers. I would see them playing, and I have a sister who played. I just wanted to be like my sister, so I would go play too."
All of Farmer's brothers played at Crenshaw High School, and her sister played two years there before transferring to View Park. She has one brother who currently plays at Crenshaw.

One of the keys to Farmer's success is that she follows her father's guidance.
"I listen to everything that my dad says," Farmer said. "I'll take that with me all the time. I pushed and did what he wanted me to do. He taught me to always work hard, and we work hard everyday."
Most days Farmer will practice after school with her team, and then put in some extra work later that evening with her father. In the summer they get in a practice session early in the morning, and then she will workout with Cal Elite later that day.

While her father handles the basketball training, Farmer's mother emotionally supports her through tough times.
"She's the one that will pick me up and make me feel better," Farmer said.

As great of an athlete as Farmer is, she is also a great student who has a 3.8 grade point average. Her favorite subjects are math, because it comes easy to her, and English, because she likes to write and tell a story. She will be attending Cal State University, Los Angeles, on a basketball scholarship, and she will major in psychology. That major will lead her into medical school.

"Since I was a younger I always wanted to be a pediatrician because I really like kids," Farmer said.

Farmer has a lot on her plate, but she'll forgo extra sleep to get work done.

"I'll set out time for what I need to do," Farmer said. "Sometimes I'll stay up all night. Last night I was up until 3 a.m. because I had an essay to do. It's not really hard to me. I know what I have to do, and I just do it."
Farmer, who attends church at Victory Christian Center, has received a lot of support over the years, which is why she enjoys giving back to other people.
"My mother always taught me that in life I should always try to help somebody else," Farmer said. "At school I mentor kids. I have freshmen on my team. If their grades aren't as high as they should be, I'll stay after and do some work with them."
Farmer has a bright future in front of her, whether it be in the WNBA, or as a doctor…or both.