Jordan Downs passed over for redevelopment grant
nDouble blow for South L.A. this year By Merdies Hayes OW Staff Writer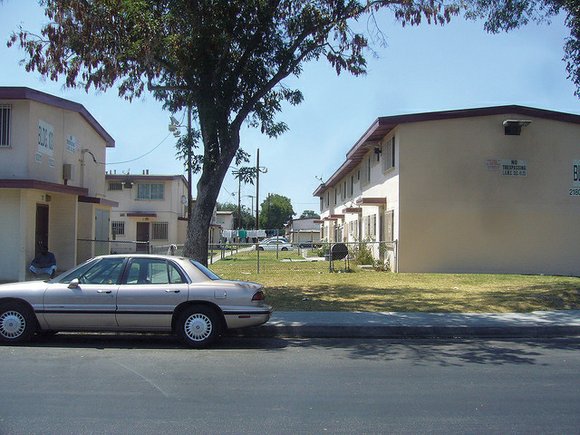 The Jordan Downs housing project in Watts will wait a little longer to undergo a much-needed makeover as it was bypassed this week by the federal Choice Neighborhoods grant program which opted to allot a $30 million sum to other cities, two of which being Pittsburgh, Pa. and Atlanta, Ga. This is the second rejection this year of federal redevelopment funds to South Los Angeles; in January the poverty-stricken region was skipped in favor of Pico-Union to receive a "Promise Zone" grant.
The Jordan Downs redevelopment plan focused on replacing the deteriorating World War II-era housing site with a mixed-income community. Officials at the Housing Authority of the City of Los Angeles insist that the proposed $700 million redevelopment project will go ahead even without federal aid; private developers hired by the housing authority say they still have commitments for some $215 million in public and private funds.
Watts residents are disappointed, and so is Rep. Janice Hahn (D-Los Angeles) who said this week she wants an explanation why South Los Angeles has been overlooked once again. "I'm very angry," said Hahn who has represented the area for years, first on the Los Angeles City Council and now in Congress. "It's hard to believe that Watts would have been passed over again. It's such a kick in the stomach. I can't imagine another community in this country that is more deserving of a little bit of help from the federal government." Hahn said this week that she wants to meet with Housing and Urban Development Secretary Sean Donovan to discuss how Watts can be included in future federal redevelopment plans, and also to "stimulate economic development" throughout the Los Angeles region.
Doug Guthrie, head of the housing authority, said the department remains undaunted in its quest to upgrade Jordan Downs and improve the quality of life for its residents. Guthrie said he will try to identify other sources of money or even reapply for the grant next year. "We're going to sit down with our development team and figure out where we'll go from here," he said. "We're very disappointed...and quite surprised. But we've got a lot of people behind this and we're not going to give up easily."
Los Angeles Mayor Eric Garcetti echoed both Hahn and Guthrie this week in remaining a booster of the new Jordan Downs. "We remain committed to supporting the residents and revitalizing Jordan Downs," he said in a statement released Tuesday.
For several years, city officials have touted their plan to transform the obsolete housing project into a stylish community of up to 1,800 new apartments, retail outlets, a modern park or commons area, and new streetscapes and sightlines. City officials had already purchased some land to expand Jordan Downs and had secured funds to extend Century Boulevard. They also have several social programs underway to help the residents improve their lives. Much of Jordan Downs today is occupied by working-poor immigrant families. The housing project during the past three decades had been overrun by gangs, drug trafficking, prostitution, property crimes and sub-standard facilities.
One resident, Andre Christian, has been working with Project Fatherhood and sympathizes with all the men who have been training for construction jobs, hoping to get a job helping to build the new project. "This is a big blow to the people who have been putting so much hope on this."
Hahn added: "This is an incredible letdown for the families in Watts who are living in proverty-stricken areas and desperately need an opportunity for a better quality life. The Jordan Downs project is that life-changing opportunity for these families. The importance of this project to the community cannot be overstated."