'Writing God's Obituary: How a Good Methodist Became a Better Atheist'
By Anthony B. Pinn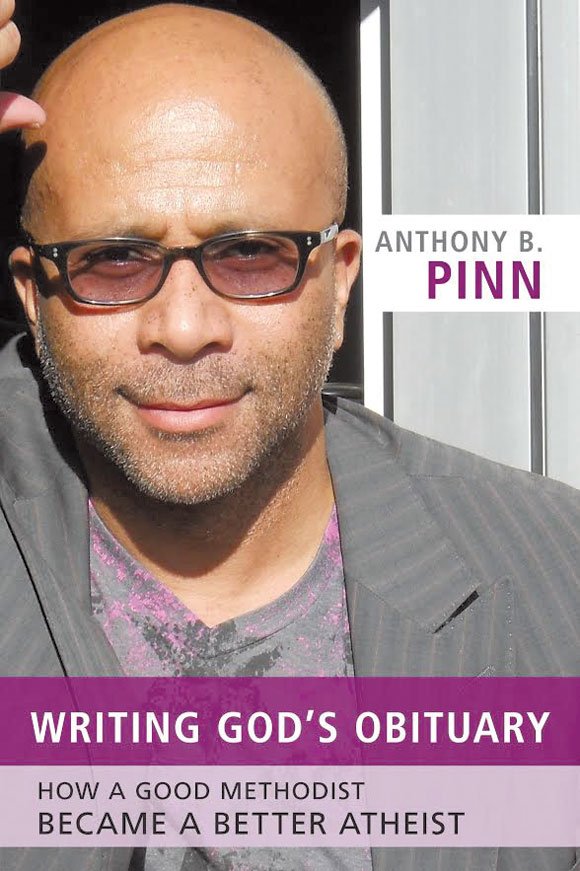 Your second home is a grand one.
It's much bigger than the house you live in during the week. No, your second home has huge windows to let in the light, fine linens, and it's usually filled with music. The furniture might be sparse, the chairs hard and the temperature uncomfortable, but there's always joy there.
Church is like that for many people. But, as you'll see in "Writing God's Obituary" by Anthony B. Pinn, (c.2014, Prometheus Books, $18.95 / $20.00 Canada, 241 pages) church is just a building to others.
Anthony Pinn was a "miracle baby."
Doctors had warned his mother not to have another child. She'd already lost one son and was sickly herself (as was Pinn's father), but Pinn was healthy when he was born into their Buffalo, N.Y. family.
Growing up in a mostly blue-collar neighborhood, Pinn went to church every Sunday with his mother. Her father was a deacon in a small Baptist church, and he made sure Pinn behaved during service and knew God. The church was a comfort to Pinn—so much so, that at around age 12, he told his minister that he wanted to be a preacher, too.
His church leaders seized that childhood wish, and began to teach the boy to preach and minister to a congregation. One of them became somewhat of a mentor and father figure to Pinn, whose own father had left the family. Though Pinn "didn't enjoy going to Sunday school" and he didn't like school in general, he says he loved his church and he embraced his future role in its leadership.
And yet, there were things he didn't like about it: the "fine art of… shunning," for instance, sexism, and homophobia. That bothered him, and his faith began to crack.
Still, he stuck with it. He matriculated from high school and entered college to study sociology and religion. He learned about other religious traditions and that "The Bible didn't matter in the same way" at college that it did in high school. He began to listen to worldly music, and started to "unlearn" his fear of life.
"We are screwed-up animals, self-aware, communicative, and evolving," he says, which didn't mesh with the wrathful God of his childhood. And so, while studying divinity at Harvard University, he kept asking one question: "Does God exist?"
For author and humanist Anthony B. Pinn, the answer is personally "no" and in this controversial-but-thought-provoking memoir, he explains how he came to that conclusion.
But "Writing God's Obituary" isn't just about religion. Pinn recalls his parents and grandparents with warmth and love, telling their stories and savoring the things they taught him. Those reflections make his journey all the more poignant; we can sense pain here sometimes, and an emptiness for what was never experienced and what might have been.
I liked this book, but beware before you pick it up. It may make you fearful, it might make you angry or prayerful, but if you've ever wrestled with issues of faith, "Writing God's Obituary" may be a book to bring home.