Lancaster and A.V. Hospital partner in wellness campaign for new moms
Welcome Baby Program begins on May 18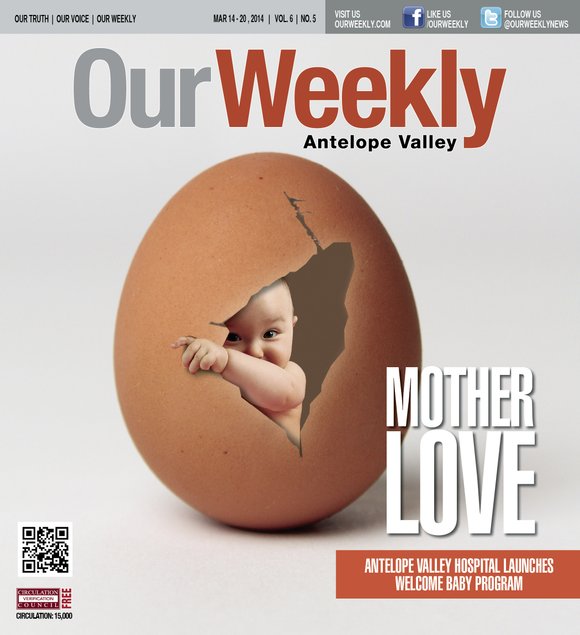 The birth of a child—particularly the first baby—is one of the great miracles and surprises a person will experience. The mother, however, maintains a symbiotic link to that miniature human being, a biological connection that has taken place for the better part of nine months and generally continues for a lifetime.
Too often that moment of joy for the new mom is marred by circumstances that could have been remedied early with the proper attention paid by medical professionals and via the many resources available to make the early months of parenthood less stressful and more rewarding.
On May 18, the city of Lancaster will partner with the Antelope Valley Partners for Health to announce the new Antelope Valley Welcome Baby Program. A reception and press conference begins at 10:30 a.m. at Antelope Valley Hospital Community Resource Center, 44151 15th Street West, in Lancaster.
About 4 million babies are delivered in the United States each year, and roughly 110 infants each day in Los Angeles County. Locally, representatives from First 5 Los Angeles, the Fifth Supervisoral district, Antelope Valley Hospital, Black Infant Health, Children's Bureau of the Antelope Valley, and Kaiser Permanente have joined forces to encourage more pregnant women to get vital prenatal care, as well as to provide support services and resources to families. They will convene to encourage more attachment between the parent and baby, discuss breastfeeding and how to identify and overcome possible post-partum depression.
The Welcome Baby Program offers voluntary home visitation services to local women who give birth at Antelope Valley Hospital. As part of Best Start LA—a multi-year investment created by First 5 LA—the program aims to shape, strengthen and support Los Angeles County neighborhoods by building resources while providing access to activities that improve the well-being, development and care for pregnant women, new parents and children age three and under. The program also provides new parents with information and resources—prenatal through the child's first nine months—that will support them to help their child reach developmental milestones. Among the goals are to: Promote overall health and wellness from pregnancy through the first year; help parents nurture very young children through greater understanding of physical and emotional development; increase the rate of breastfeeding; ensure that children have health coverage; and to enhance the existing community network of services and to foster community relationships.
"We're very excited about this program because it is universal. No one will be denied because of lack of insurance," said Michelle Kiefer, executive director of Antelope Valley Partners for Health. "With the rise of childhood obesity, a healthy start is vital for a newborn. The Welcome Baby Program will promote good health from information about breastfeeding, how to bond with your baby as well as identifying the early signs of postpartum depression."
Keifer added that a representative from Antelope Valley Hospital will visit each new mother within the first 72 hours after birth to help instill within her good practices for rearing a healthy infant. "We want to identify the issues that may hinder a healthy start for the baby, and extra support is available for the moms. All of this is free. We want new moms to take advantage of this program because when you practice good habits in caring for the baby, the child's mental and physical growth will benefit tremendously in the years to come," she said.