Deployed father flies around the world to say 'I love you' to son
Reunion gets emotional at Desert High School
Rebecca Amber | 3/14/2014, midnight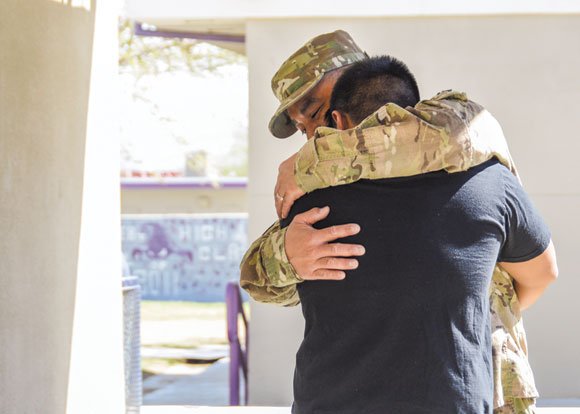 During his "around-the-world" trip back to Okinawa, Bella was also able to surprise his daughter, Kristina at work.
"I had her co-worker do a video on my phone so I could show my wife," said Bella.
Jordan shared that his father "missed food" like In-N-Out, during his deployment, so they spent a lot of their time together eating out. Bella and his children even took a short trip to San Diego over the weekend to visit Bella's parents.
"I see [my dad] as my role model, I love him," said Jordan. "I like it that my parents are still supporting me no matter where they are. My mom too, she gets those videos [of Jordan's football games]. When we had our football banquet I FaceTimed them both and they were crying."
Bella described this past deployment as his "most intense."
"We stood on the alert for heroes. That's what we call people who had passed, who had been killed in action," said Bella. "It was bad when we got a call because we knew someone was out there, but we just stood alert and went out once every other day."
Though he was only able to stay for a few days before returning to Japan, Bella was "grateful" for the chance to see his family. Bella recalled that in 25 years, this is the longest he has been separated from his children. His next trip to California is slated for Jordan's graduation from high school.
"I'm just glad I got to see him before he graduates," said Bella. "Not [just] at graduation day, but I got to see him a few months prior and stop in to say 'I love you.'"