Deployed father flies around the world to say 'I love you' to son
Reunion gets emotional at Desert High School
Rebecca Amber | 3/14/2014, midnight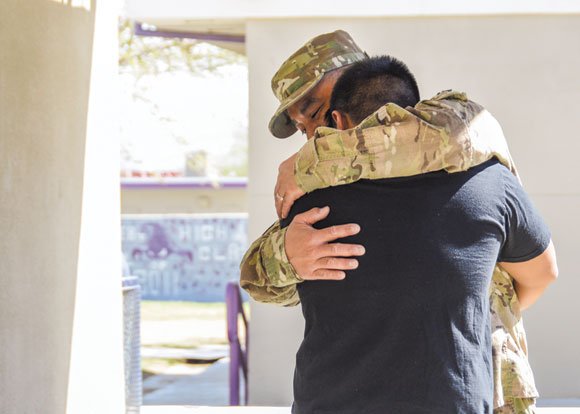 Desert High School Senior, Jordan Bella, was born at Edwards Air Force Base in the days when the base still had a hospital. Jordan spent his kindergarten and first grade years in Germany before returning to Edwards for the second grade and every grade following.
Just before entering his senior year, Jordan was faced with a difficult choice to make when his father, Chief Master Sgt. Michael Bella, 33rd Rescue Squadron, received a permanent change of station (PCS) to Kadena Air Base in Okinawa, Japan.
Jordan chose to stay behind and finish his senior year at DHS. Shortly after arriving in Japan, Bella was deployed to Afghanistan. Because of his deployment, Bella missed the entire holiday season with his family. Instead of his children spending the holidays in Japan, his wife, Joyce Bella visited their children in the states.
"I kind of promoted myself out of a job and there were no jobs here at Edwards, so we had to PCS to Okinawa, Japan," said Bella. "For my son to finish high school; he was involved in football and to keep in a good mind for college, we thought, 'okay we're going to let him stay as a long as he keeps his grades up.'"
Since his parents left in August, Jordan has stayed with his godparents and continued to participate with the football team and the Associated Student Body as well as maintaining his grades.
"It was difficult because I pretty much missed his whole senior football year and we're pretty much diehards with Desert football," said Bella. He added that Jordan's godparents would video tape and send many of Jordan's games to Bella, who would stay up late watching them.
Friday Mar. 7, Jordan was sitting in class when his principal, Dr. David Ellms, walked in, took his backpack and told Jordan to follow him.
"I thought I was in trouble," said Jordan. "I didn't know what I did wrong."
What Bella found when he walked outside was his father, hiding behind the classroom door.
"I didn't even see my dad, I just heard his voice and I knew," said Jordan.
The reunion was certainly an emotional, tearful one. Jordan shared that he and his father are "really close and FaceTime nearly every night." According to Jordan, his father had also had a difficult choice to make. He could have spent six months in Afghanistan and come home for the holidays, but instead he chose four months of deployment and no family holidays, so that he could attend Jordan's graduation.
"I didn't know he was going to break down and that just showed me how much he misses me," said Bella. "When we first left for Okinawa it was really heartbreaking for us and for him because he's used to us always being there for him and then now, just seeing him crying. It tears my heart when I see him crying, but knowing that I came to see him, that's more of a happy crying that I'm back."