Tyler Perry's 'Single Moms Club'
Hollywood by Choice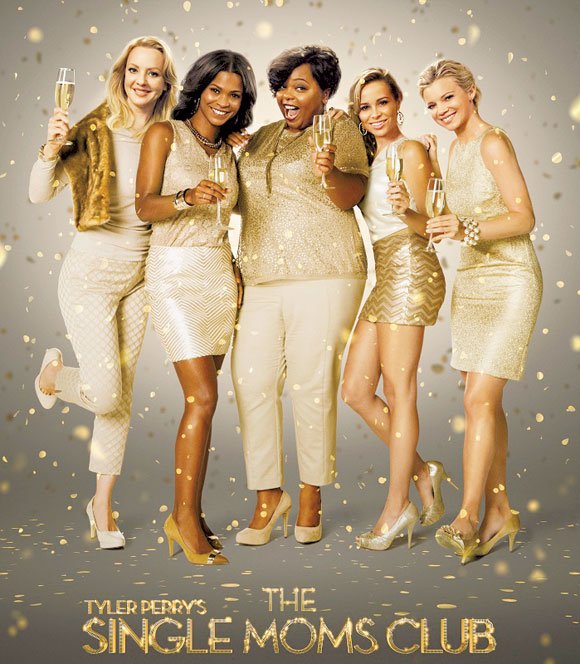 If you're a single mom, or were reared by a single mom, this movie is for you. Even if you're not a single mom, or reared by one, do yourself a favor and see this film. You will laugh, and surely you will recognize some part of your life being played out on the screen whether you like it or not. It will definitely be food for thought.
Written, produced, and directed by Tyler Perry, "Single Moms Club" touches on the lives of five different women from very different walks of life. Notice I write 'touches' on the lives of these women because the time constraints of the film itself make it impossible to really get to the bottom of these women's lives, but it's a good start.
Not necessarily played for laughs, this film touches on a variety of issues single moms face on a daily basis from matters of the heart, to working and finding affordable childcare, to getting stepped in the "work a day" world. But don't let this get you down, like single moms everywhere do, they make sure good things happen.
Perry has a winner with this film—might even start a whole new movement.
The five women are brought together when their children who attend the same elite private school are behaving badly. The meeting, rocky at first, eventually turns them into lifelong friends or a 'village' as Perry calls it. But not before all 'you-know-what" breaks loose.
Cinema sweetheart, Nia Long ("Best Man Holiday") stars as May, who is rearing her teen son Rick, who is fixated on being with his estranged father. By the way, Rick is played by Long's 13-year-old son Massai T. Dorsey, who is making his film debut.
May is a writer bent on publishing her first book which keeps getting rejected. She's determined to make a good life for her son, who is constantly hurt by his father's lack of attention, and he transfers his anger to his mother.
The very talented Cocoa Brown stars as Lytia, ghetto to the max, and not worried about it at all. She is the mother of five children: two young girls, and three boys. Her two teens are in prison (three strikes), and the third son is her final chance to get it right.
The outrageously funny Wendi McClendon-Covey (ABC's "The Goldbergs") stars as Jan, and is mom to a very angry outspoken daughter. Jan plays hard-ball in the business world, but when it comes to her kid, she just can't win.
The lovely and versatile Amy Smart stars as Hillary. She is the more fragile of the single moms. Her ex-husband, a first-class jerk, has turned her life upside down and left her with three children, one of which is an infant. She's almost a total stranger to her daughter who previously turned to the nanny for help, advice and comfort.
Zulay Henao stars as Esperanza whose ex-husband is still on the scene and purposely pits her daughter against every decision she makes. It's tough going for her because her 'ex' continues to pay the bills and threatens to take everything from her if there is another man in her life. And as fate would have it, she's found that perfect man, too bad.
The very funny Terry Crews (Branson) has set his sights on Lytia and his plan is to wear her down with gifts, and loads of unwanted attention. Ryan Eggold (Peter) is Esperanza's (Zulay Henao) secret lover, but he's tired of being in the shadows. And Tyler Perry's (T.K.) method of getting next to May (Nia Long) is to kill her with kindness.
"The Single Mom's Club" is funny and moving and cries for a television series to continue their stories, and to give single moms everywhere a chance to compare notes, and know they are not alone in their sometimes unappreciated journey.
In no way is "The Single Mom's Club" about male bashing. Perry says this film is an homage to his aunt who raised four boys by herself, and to every other single mom out there. He also cautions readers not to think this is a 'woe-is-me' film. He says, "This film is about women who are doing what they have to do for their kids, not even thinking about it, just making it happen."
"The Single Moms Club" is in theaters this Friday.
To learn more about the film visit the official site at http://thesinglemomsclub.com/.