Something from Nothing
Dayo Olopade uncovers Africa's gift for doing more with less at the Zócalo Public Square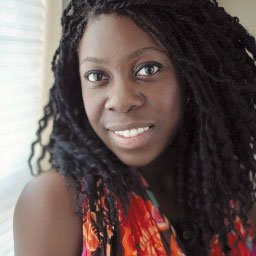 Ah, the contradictions that arise from Africa. Alternatively seen as a vast treasure chest of untapped resources, and as a bastion of grinding poverty full of refugees with distended stomachs begging for alms from the civilized world, its media image is a two-sided coin of polar opposites, and never the two shall meet.
The latest edition of Zócalo Public Square—the Arizona State University sponsored intellectual exchange—attempted to reconcile these two extremes as it hosted Dayo Olopade at the Actors Gang theatre in Culver City on March 5. Olopade brings a unique pedigree to the discussion, as she is the daughter of two Nigerian parents born and reared in Chicago. A seasoned journalist for the Daily Beast, the New Republic, the Washington Post, and other publications, and a soon-to-be graduate of the JD/MBA program at Yale University, she opened her lecture with the observation that Africa is a continent of some 800 million people, most cultures she has not met.
Olopade used this public gathering as an opportunity to launch her new book, "The Bright Continent: Breaking Rules and Making Change in Modern Africa." The title in itself is an intriguing play on the "Dark Continent" phase traditionally used in reference to the globe's second largest landmass. In it, she attempts to look beyond the ominous headlines of armed conflict, corruption, and famine to present a more balanced portrait of ordinary people surviving and excelling in the presence of daunting challenges.
In spite of her pedigree, she did not visit her ancestral home until she was 12 years old, when she was initially impressed by the sheer variety and amount of commerce that transpires in the backed up traffic of Lagos, Nigeria, congestion that dwarfs the legendary traffic jams of Los Angeles. In this particular example of urban sprawl, one may purchase food, non-perishables, and live animals from the confines of your automobile—a case in point of what Olopede considers emerging Africa's foremost attribute: the knack for innovation and invention.
She summarizes this process by utilizing the Yoruba word "kanju," which roughly translates as hustling, or the African trait of creatively resolving difficult situations.
One notorious example of this talent for making do with little or no resources is the contemporary phenomenon of Nigerian confidence scams, common enough that Olopede drew a number of snickers from the audience when she asked how many of them were familiar with this trend. Then again, as she noted, there are many more, perhaps not so well known, legitimate manifestations of innovative spirit emerging as the continent grows into the millennium. African billionaires, whose ranks totaled 20 in 2012, had increased to 27 by November 2013 (according to Forbes Magazine). These include Aliko Dangote (Nigeria) at the top of the list with $25 billion, whose cement-based empire reflects the staggering amount of construction that can be witnessed on a routine, cross-continental commercial flight.
The truly resourceful can turn other people's misfortune into lucrative opportunity. Following the dot-com bust at the turn of the century, healthcare specialists in the land-locked, underdeveloped country of Malawi purchased surplus computer monitors at dirt cheap prices, then re-configured them to function as touch screen data entry modules to address the mushroom health crisis caused by the influx of AIDS and other diseases.