Two buildings collapse, at least 2 dead after Manhattan explosion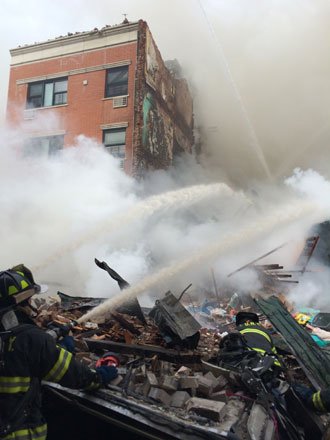 Hundreds of firefighters responded, many spraying water on the roaring blaze from ladders.
Metro North commuter rail service was suspended as debris from the explosion landed on the elevated tracks across the street, authorities said.
"I heard a big explosion," said a resident who identified herself as Angelica. "I didn't know what was going on. ... My neighbors came banging on my door, telling me to get out. I guess they were evacuating the building. And I couldn't get out. My door was jammed. Everything on my windowsill fell. I guess the impact of the explosion jammed the door as well."
She added, "It was extremely loud. I couldn't even explain it to you, if I could. It was just so loud. It woke me out of my sleep. That's how loud it was."
Molley Mills, who lives nearby, said at the time of the explosion her building rumbled as if the subway was passing beneath it.
"I went outside my terrace and there was smoke pouring out," she said.
The New York police bomb squad responded to the scene, according to a law enforcement source.
Once a predominantly Italian neighborhood, the stretch of East Harlem saw a large influx of Puerto Ricans in the 1950s. It went on to be called Spanish Harlem. In the 1990s, many Mexican immigrants began to move into the area, which has been gentrified in recent years, with many mom-and-pop shops replaced by restaurants and bars.